GARDENERS NOTEBOOK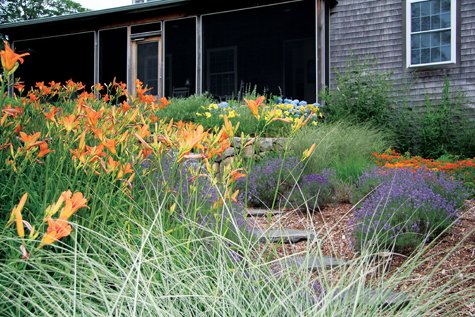 A True Garden Angel

Jennie Slossberg Delivers Garden Wishes
By Jani Gardner
Arriving at this design installation site, Garden Angels owner/chief landscaper, Jennie Slossberg, discovered a primo garden location project in Ocean Heights. "It was a perfectly blank canvas, including terraced beds defined by retaining walls. The sandy soil allowed for good drainage."

The owner had seen Linda Black's article on Jennie's remarkable organic gardening practice, including seven years maintaining the celebrated garden of Gretchen Feldman, now deceased. That was exactly the type of garden the owner wanted Jennie to create.

Jennie delivered his garden wish to perfection, designing / establishing a low maintenance garden, including ornamental grasses and unusual perennials, minimal water, for summer through fall vibrance and incredible color, plus winter interest.

She worked with blocks of color, and layering, for lots of movement. Jennie installed drip irrigation to help establish the garden, and it is useful now in times of drought.

"At this point, the garden is well established. It's very straight forward, little maintenance, once and done. Delightful steps lead to the front door," beams Jennie. "You can sit on the porch and see its gorgeous color and grace, or walk through the garden!"

That nifty walk through includes Jennie's plantings of fabulous daylilies in three colors: perofskia (silver Russian sage), guara (whirling butterflies), rosa rugosa (planted away from where people will walk); blue mist variety of caryoptris, carex buchananii fab copper grasses at the front of the stone wall at the entry.

A dozen shrubs: viburnum, blueberry, cethora, and more, naturalized the garden with existing plants and trees, including the hydrangea around the porch and the nearby butterfly bush. Hydra and buddleia are near the house, while other shrubs are planted to naturalize the space between property boundary native brush and the formal garden.

This ooh and ah garden offers Japanese red-tipped blood grass imperata cylindrica; a rainbow of fountain grass pennistum rubrum, copper grass carex buchananii; miscanthus sinensis (little zebra), morning light miscanthus, silver caryopteris, Karl forester grass, and lavender. Obviously Jennie is blessed with a very meticulous, artistic crew.

Her imagination travels way beyond dahlias, petunias and impatiens! Her pedigree includes a degree in art, drawing, plus a learning curve of architectural tools in order to read and write plans. A photography major, with a ceramics degree, she spent time with sculpture, watercolor, printmaking, childhood education and psychology.

Her current favorite creation is outdoor rooms, filled with fragrance and texture. All part of Jennie's garden of majors, minors and flora exotica.