SCENE AND SEEN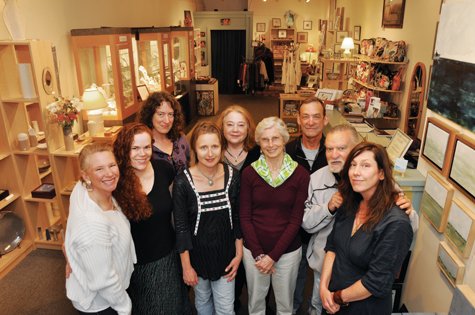 Night Heron Gallery

The collective spirit of Eleven Island Artisans
Opening and running a gallery on a seasonal island is no easy task, but when you combine the energy and talents of eleven successful artisans under one roof, turns out it's a sure-fire proposition.
Night Heron Gallery, located at 58 Main Street in downtown Vineyard Haven, is celebrating its second year. The collective gallery, owned and operated by eleven artisans, features two new additions this season, fine art photographer L.A. Brown and handcrafted handbags creator Sylvie Farrington. They join Kathleen Tackabury, Diana Stewart, Ingrid Goff-Maidoff, Lisa Strachan, Carolyn Warren, Washington Ledesma, Ann Howes, Nick Thayer and Beldan K. Radcliffe.
Visitors enjoy speaking directly to the artisans who also take turns operating the gallery. Because all of the artists have worked together for many years showing their works at The Vineyard Artisans Festivals in West Tisbury (and many still do), they are friends as well as colleagues.
"We all work toward a collective goal," explains porcelain pottery artist Lisa Strachan of Vineyard Haven.
Kathleen Tackabury, jewelry designer and West Tisbury resident, relishes the feeling of permanence at Night Heron, while L.A. Brown enjoys the opportunity to show her work nearly year-round on Main Street. "We're becoming an enclave of beautiful galleries and shops – a gallery destination," she says.
Patrons will appreciate the range of Island-crafted arts on exhibition, including ceramics, fine jewelry, photography, printmaking, painting, etchings, tile, book arts, handbags and gifts.
Night Heron Gallery, 58 Main Street, V Haven. 508-696-9500 or visit
www.nightherongallery.com
.