SCENE & SEEN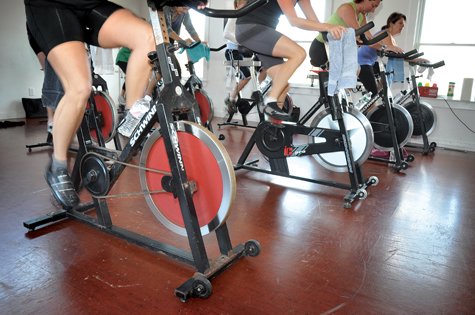 Blitz Fitness

Catie Fuller Brings Fitness and Fun to West Tisbury
By Kara Goldfarb
Blitz Fitness is the place to go for health and well being. Owner Catie Fuller, former owner of Triangle Fitness, has had quite a bit of experience, having been in the gym business for 16 years. "I opted out of the gym business because I had been doing it for so long, but fitness is my life," she says. Consequently, she left all the machines behind and focused strictly on classes designed to engage muscles and promote fitness. Additionally, when the owner of a Vineyard karate school left the Island, Katie trained extensively in order to continue the karate school. As a result, Blitz Fitness – located on the second floor of the new Split Rock Athletic Center in West Tisbury – offers both fitness classes as well as martial arts classes.
The classes offered range from spinning, which Catie describes as "a phenomenal cardiovascular workout" to boot camp, kickboxing, and many more. The variety of classes allows clients to choose the type of workout they are getting and help choose ability levels for appropriate placement.
As for the martial arts classes, levels vary from beginner to advanced, and participant ages range from four years old to 70 years old. "For the most part we do point sparring, which is full contact," she states. "We go off -Island a few times a year to compete, and our students do incredibly well." Catie tells the story of the last martial arts competition during which 11 kids compete and came back with 27 trophies.
Aside from being the only martial arts studio on the Vineyard for children, Blitz Fitness is unique because of its setting, located in a quiet area of West Tisbury. The classes are small and private, and "it's almost as if you are getting personal training for a group price."
Catie's clients have the choice of signing up for a monthly membership, purchasing a punch card, or just paying for an individual class. If your looking to try something out, the first class is always free. Catie and her business partner Tim Merriman along with the dedicated instructors of Blitz make working-out fun and challenging.
For more info click:
www.blitzfitnessmv.com