ARTIST PROFILE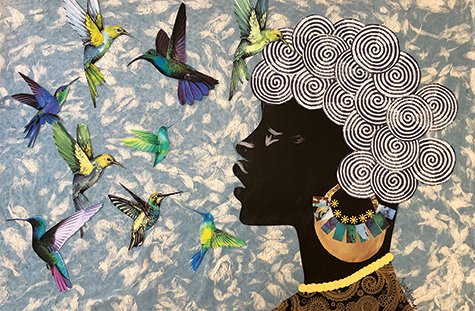 The Resplendent Multimedia Portraits of Janice Frame
by Pat Waring
Diversity, creativity, education, and a bone-deep reverence for and heart connection to her African heritage and an exultant delight in art have always woven through the fabric of Janice Frames life, culminating in her arresting and thought-provoking artwork.
Her Reddancers creations, encompassing brightly garbed sculptural dolls as well as her current resplendent multimedia portraits, bring to life the precious qualities of dignity, resilience, and glowing multi-hued beauty that she sees in African tribes.
From her earliest years Janices life was molded by a comfortable and nurturing family life surrounded by generations of respected professionals. Born Janice Darden in Columbia, South Carolina at the Souths first Black hospital founded by her great uncles, Janice counted doctors, a dentist, and a long line of teachers among her extended family.
Janice entered kindergarten in Austria where her physician father headed a wartime MASH unit. Change was to be a constant in her young life. After returning to the States, the family moved several times. Janice attended a variety of schools, ranging from predominantly white to predominantly Black, one with a substantial Jewish enrollment.
But while external settings changed, there were two immutable elements: a secure family life and her love for art.
From a little girl art was always important to me and fostered by my parents, Janice said. She immersed herself in art projects, made paper dolls with her mothers guidance, was encouraged by a supportive high school art teacher. Expanding her appreciation for all forms of creativity, she studied ballet with Suzanne Farrell, Balanchines prima ballerina.
At historic Fisk University in Nashville Janice focussed on painting, drawing and art education.
My professors were all African American. This allowed me to understand the impact of Black art and know about Black artists and their contributions.
Her revelations about Black art were not the only life-changing experiences Janice had at Fisk. She also met and married her husband Leo Frame while still a student.
After graduation the couple lived in Amherst briefly while Leo earned his Masters Degree in Business Administration at the University of Massachusetts. Following in family footsteps, Janice had her first (K-8) art teaching job for the Westfield Public Schools. From there, the Frames settled in Atlanta. Now with two young sons, Oman and Kairi, Janice taught art at Peachtree High School and was adjunct professor of Fiber and Textile at Morris Brown College.
In 1985 when Janice landed a job at the West Tisbury School the family moved to Marthas Vineyard where she had spent many childhood summers.
I left Atlanta to expose my boys to different lifestyles and different parts of the country, she said.
Janices classroom was a vibrant haven of creativity, a favorite destination for students and teachers alike. She filled it with creative inspiration from all aspects of life images of animals and flowers, people of many cultures, abstract and classical artwork. Believing in the value of introducing children to the arts, she even taught ballet to her youngest students.
When I come into this room my heart leaps, one Kindergartner told Janice, to this day a treasured memory. She assured her students that everyone is an artist, and to be an artist your work need not look photorealistic.
I wanted to give my students an environment which would stimulate authentic response to my projects. Conversation and walking around to exchange ideas was supported. Most important mess and mistakes were allowed. In 2001 Janice moved from teaching at West Tisbury School to a position at M.V. Regional High School.
I left because I needed to grow, she explained, adding that of all the levels she taught from kindergarten to college, high school is her enduring favorite.
In her painting, drawing, and studio classes Janice forged deep bonds with students while challenging and encouraging them to create authentic, high quality pieces. She assured them, you can make a living with your art but you have to work!
Janice listed some 30 students that she has kept in contact with over the years and said there are many more. Most have established themselves in art careers, their names familiar to art lovers on the Island and beyond.
Many of these students I had every year from their first day of kindergarten until they graduated, she reflected. Only on Marthas Vineyard!
After retiring in 2013 Janice was thrilled at the opportunity to focus on her own artwork. But her students remain in her mind.
They have become my muse, she said. I learned just as much from them as they learned from me.
Janice shared a quotation, its source unknown, that she claimed as her mantra throughout her teaching career: I believe a true teachers gift is to guide ones discovery of himself, for in truth we can only give what we know, freely and without intimidation.
Though Janice always dedicated abundant attention and energy to her students, even during her teaching years she eked out at least a little time for her own work.
It began with teacup fairies, tiny dolls that Janice crafted with her sister, Lisa Cash, who was teaching art in Edgartown just for fun.
Then Janice began creating her Guardian Angels, elegant porcelain dolls gowned in flowing layers of gossamer white. Handcrafted under the name Presence of Angels, the dolls were meant as christening gifts from Godmother to Godchild.
These angels represented African Americans in every color and hue, Janice said.
She continued the project for two years, producing some 20 dolls as custom-ordered gifts.
Soon, a new, deeply personal art project began to take shape.
Janice recalled being captivated by photos of Carol Beckwith and Angela Fisher illustrating African tribal members.
The photos presented Africans in the most beautiful light. They seemed to capture the richness of the ceremonies, the colors that adorned the people.
Those photos depicted the beauty and dignity of my ancestry, she said. I wanted to document and bring this beauty alive and give it to the world.
Moved to show this vibrant beauty in her own work, Janice designed her Reddancers, large dolls in colorful tribal garb. The collection is named for Maasai men swathed in and adorned with red as they compete in vertical jumping dance competitions.
Committed to authenticity, Janice did extensive research, searched out traditional fabrics, ordered miniature masks, bags, instruments and neckwear from Africa.
These Reddancer dolls represent a rainbow of beautiful people, she said.
The African dolls were shown and sold at Cousen Rose Gallery in Oak Bluffs for 25 summers. They were displayed at Howard University and Wilberforce University. Among their admirers were Bill and Hillary Clinton who gratefully received two as a gift from Janice.
At length, the project reached completion. The dolls left me. They came from me, and then they went, Janice told one reviewer.
Last year a vibrant new incarnation of Reddancers burst into being entirely by chance. For Janice this new work would meld together two of her deepest passions: her mission to raise up and spotlight the African tribes of her heritage, and her delight in joyfully free artistic expression.
With the Covid-19 pandemic keeping the Frames from their usual winter visit to family in Atlanta, Janice found herself with unexpected time on her hands and art on her mind. Finding a photo of her two young granddaughters, Suriyah and Uchenna, she began to play with adding colors and designs.
The transformed photo was a hit with the family and Janice found herself enraptured by this new technique.
Soon Janice was busy in her studio, creating multi-media portraits by embellishing photographs of striking African men and women. Beginning with handmade paper she layered on paint and whatever decoration would strike her fancy.
I paint images of African people, take the beauty of their faces, adding my spontaneous creativity to enhance the work, Janice explained. I use handmade paper, shells, African patterns, crayons, markers, cutouts, paint acrylic and dyes. Anything that speaks to me!
The embellishments just come to me while I am involved with the portrait, she said, as though connecting with each of her subjects sparks her intuition, informing her every creative step.
She finishes each portrait with a coat of shiny resin that both protects and stabilizes the decorative elements.
When she received an invitation to show the portraits at the Eisenhauer Gallery Janice was gratified but hesitant. She was doubtful that her unconventional, spirited pieces would be a good fit for the elegant Edgartown gallery.
But owner Elizabeth Eisenhauer and her manager, Amy Galligan Cash, assured her the art would stand on its own and appeal to all cultures. Encouraged, Janice signed on for a summer show to put them in and see what happens.
What happened was dramatic and affirming. The portraits began selling briskly from the first day. Janice would receive requests from the gallery for more portraits to fill empty spaces left on the walls.
They kept going! said Janice. Im overwhelmed at the reactions to my new work. I think it was the right time.
Janice insisted her art was not created in response to the countrys searing racial tensions so widely visible in recent months.
I am not actually aware of any conscious connection between the works and the images that we see. I just want to share the beauty of my people. This sometimes gets lost in the flurry of the day. These images are not meant to be political.
I want to expose the beauty and dignity of African people and their culture to the world. I think it is important to learn from truth. This is what defines my culture and my life, Janice declared. As we look at the indigenous people of Africa, we see ourselves. From the northern African nomads, the Egyptians, the Somali people, the people of the OMO Valley in Ethiopia, the Maasai tribe in Kenya, to the tribes of the Congo we revel in their culture. It gives us power. I see it as my job.
For more information or to see more of Janices work contact:
Reddancers@comcast.net
,
reddancers.net
,
Eisenhauergallery.com