HOME PORTRAIT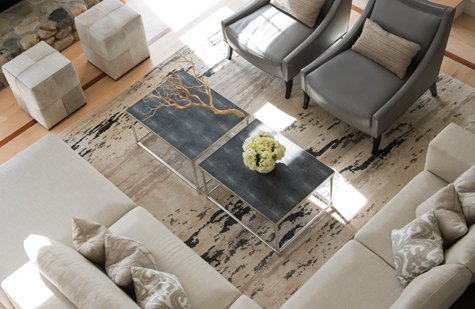 Style and Substance

Two Island Designers Have Mastered Cohesion While Pushing Boundaries
By Gay Giordano Photography by Eric Roth
Liz Stiving-Nichols and Liane Thomas, partners at Martha's Vineyard Interior Design, are masters at creating environments within an architectural space that are cohesive with the architect's vision and client's lifestyle. They work within its geometry and volume, mastering the possibilities for detailed moments with the enthusiasm of children whose crayon box is bigger than yours. Liz founded Martha's Vineyard Interior Design in 2010 and soon after opened a home furnishings boutique, "Bespoke Abode" in Vineyard Haven.

Havinggrown up on a farm in southern Ohio Liz infuses her work with organic elements, mixing the rustic with the refined. With 15 years of design experience, she made her mark in the design world after moving to Martha's Vineyard, days after receiving her BFA in Interior Design from Harrington Institute of Interior Design in Chicago. Her portfolio includes projects on Martha's Vineyard, on Cape Cod, in Boston, New York, Chicago, and Philadelphia,

Liane Thomas became a partner at MVID in 2013. She received her Bachelor of Architecture degree from the California College of the Arts and continued her studies at Rhode Island School of Design and in Rome, Italy. With over 15 years of experience working on high-end residential projects focusing on building design and interior design, Liane's portfolio includes projects in San Francisco, Miami, Kona, Portland, and Shanghai.

The accolades and awards for their work are numerous. Liz is the recipient of the 2012 "5 Under 40 Award" for design excellence in New England, was named one of the Fresh Faces of Design by HGTV and is one of the 2016 Traditional Home's "New Trad Rising Stars of Design", a prestigious honor that showcases the top ten most notable, up and coming interior designers in the country.

The firm has their projects published in several Local, Regional and National design magazines.

While impressive, these are not the only things you need to know about them. What made them successful is how they trained their eyes.

Liz was initially interested in set design but after getting married and moving to Martha's Vineyard her focus became high-end residential design. Liane's father was an engineer; her early love of drafting and the mix of art and the technical led her to art school for an architecture degree. She then went to the machine shop of a design/build firm. While working in San Francisco for exclusive architecture firms, she and her husband maintained an architectural metal fabrication shop where they created many custom pieces and architectural details.

Their fruitful collaboration rests on Liz's sense of dramatic moments and Liane's innate sense of how things are built, from sketch to three-dimensional reality. You can feel this from the moment you meet the principals. Liz is effusive, expressive, fluid. Liane is thoughtful, logical, and grounded. Until they get on a riff with each other and burst out laughing. With an enthusiasm normally reserved for opera, they glide into each other's thoughts and express the same passion for what they do.

When one looks at their body of work, you are perhaps initially struck by two things: their creative approach to powder rooms and a devotion to symmetry. For them, a powder room can be a small stage deserving of a pop of color and unusual fixtures and repurposed objects. Whether it's a buoy orange faucet or a hand thrown ceramic bowl as sink, here is a place where their humor and confidence comes in.

Liane's feeling is that "Designing powder rooms can be the most fun. They offer the opportunity for surprise that may be a small departure from the rest of the house and one that guests will likely get to experience. You can be more adventurous in these tiny spaces." Hence a sink made from a vintage washtub. Or sconces with green gems strung vertically in a cut-out. Or a mosaic floor patterned with spirals, the symmetrical brothers and sisters of waves.

And here's where their philosophy of color comes in. When Liz and Liane have their initial client meetings, they listen carefully not only to what their clients are dreaming about and how they can manifest that, but also to the environment. Their clients come here for the Island's dreamy beauty, and whether you live on the beach, in a field, or in the woods, the sky with its panoply of colors and shades will swap tints with their surroundings. The designers look at that carefully – the time of day, the weather, the season, what's in bloom during the clients' residence on-Island - and adjust the color palette accordingly. Color is the key to bringing the outdoors inside. Startling playful pops should be minimal but inviting. Sand has an infinite variety of shades. Blue is capable of many faces. And so on. These designers are adept at corralling color in just the right tones and combinations. Sometimes they turn up the volume but always invite the exterior palette inside. As Liane says, "Color can go sideways if you don't do it right."

Their respect for symmetry comes from not wanting broken lines of sight to the outdoors or to work against the grain of the architecture. The view is what undulates, not the feeling of solid ground. Every architect defines space in different ways and these designers partner with them by first responding to the view, to see what the house is capable of. The textures in a stone wall can make a particular choice inevitable. As Liz says, "Not all interiors are about the interiors. What we bring to the table is the ability to maintain intentional focal points." They make decisions guided by the architectural program as well as the client's goals. "The clients provide us with the parameters to build from. A large influence is our client's lifestyle which informs how they will live in the house, but we also zero in on their personal style which could be evident in a coveted fabric or piece of furniture, a treasured piece of artwork, or a favorite summer shirt. We find the details that make our design personal and unique to our clients," Liz says.

MV Interior Design is growing at a fast clip. Apart from being in demand for their particular aesthetic and enthusiasm for being challenged, they run Bespoke Abode, a furniture and accessory boutique, as an extension of their taste. By offering goods that are not easily found, but are suitable to the Island's style and climate, they are sharing their love of fine and well-crafted furniture, vintage flea market finds, custom window treatments and rugs, and decorative accents with residents who do like their style but don't have a need for design services. Liz notes, "We look at our store as an opportunity for admirers of our work to shop our style."

Their next venture is Bespoke Affair, a curated collection of event décor that can be rented for Island events. Think larger dinner parties, or a bar/lounge area at a wedding. Walking around their enormous loft space above the office is like walking through a set from a Fellini film. Liz hand picks each item with the goal to offer something special or unexpected at any celebration by concentrating on individual and essential moments. Vintage and repurposed trolleys, mid-century modern dining and bar tables, dining chairs, and farm tables that can seat 18. A grain cart from a duck farm has been topped with a beautifully upholstered French mattress for seating or stretching out. A set of chairs belonging to Liz's Grand-mother have been stripped down and upholstered with one-of-a kind African mud cloths. Authentic German beer garden tables and benches can create ample seating for a dinner party and can make casual conversation inevitable. Glass table tops hanging from macrame ropes and hanging macramé chairs free up floor space. Clusters of coral and barnacles provide an unusually beautiful table piece when not underfoot in the sea. A set of stacked gym lockers are perfect for guests to store their belongings at a private beach BBQ or pool party, a long wooden bread bowl with handles can act as a serving piece for a raw bar. Lawn bowling sets for kids of all ages, vintage goulash pots that can be filled with ice to keep drinks cold, the list goes on.

What else can be done with all these century-spanning pieces? Well, we suggest you simply contact Bespoke Affair and be amazed.