TRENDS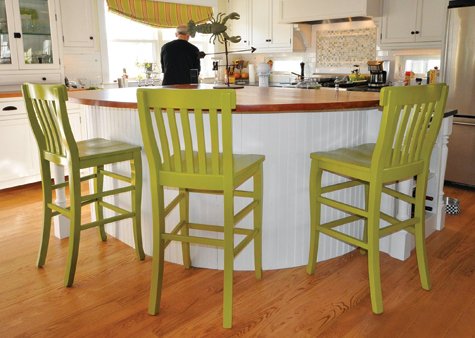 Warm a Room By Giving It a Coat:

Wainscoting
By Paul Lazes
In 1929 Mies van der Rohe designed the quintessential glass and steel box residence for the German Pavilion at the renown Barcelona Exposition. It was a magnificent and daring example of the international style of design – simple, elegant, glass, steel and stone. No moldings, no trim, no "decorative" elements. Clean, lean, elegant.
We live on Martha's Vineyard where traditional design is the vernacular. Lot's of trim, moldings and decorative elements and we are blessed with several fine architectural buildings that go back to the 1800's with wonderful examples of traditional design.
Way back when – at the onset of the industrial revolution when plaster was replaced with stamped metal ceilings – eventually replaced with sheet rock – walls were decorated carefully with a high degree of craftsmanship. It is not uncommon to walk into a room built in the 17-18th centuries that have no furniture at all and experience them as "full" and complete. Why? Because of the amount of detail that existed in the ceilings, walls and floors. One would be enveloped in a coat of decoration and detail. Designed well, these rooms are magnificent.
In previous articles, we've talked about moldings used on ceilings (and I'll discuss them in more depth in the future) but in this issue I want to talk about the walls and wainscoting. Wainscoting is typically around 3 feet tall and wraps a room with a blanket of texture. That texture varies indefinitely, but there are materials and products still available to give any room, here on the Vineyard, the type of blanket of your choosing.
A wainscoting is composed of 3 elements: the Chair Rail, the Field and the Baseboard. The height of the chair rail varies from 30 inches to over 6 feet possibly topped off with a shelf. It's not an inexpensive addition to a room, so you might want to experiment on a Powder Room, a Library or a Mud Room with not as much clear walls to keep your costs down. Then, live with the addition for a while before committing to a larger space. It can either be the same color as the walls or contrasting color. You will quickly see what a difference it makes.
There can be some variation with the Chair Rail and the Baseboard (heights, contours, etc.), and the Field can vary widely (think molding details or bead board).
Wainscoting brings a room to life, framing it in such a way that virtually HAS TO bring warmth and comfort. It can be as simple as a Chair Rail and Baseboard with paint in between, or as complex as your imagination. It's all a matter of design and cost, but I've never seen a wainscoting I didn't like.
Contact me with your thoughts, what you found valuable with this article and any questions you might have about the subject matter.
rockpondkitchens@gmail.com