HOME PORTRAIT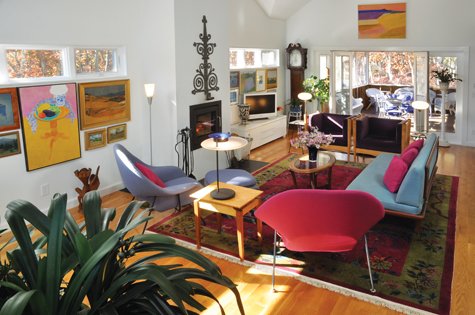 Living the Creative Life

Vision, Planning and Teamwork Make the Perfect Island Home
Story and Photos by Charlie Utz
When husband and wife team of designer Kristina Almquist and woodworker Greg Pattison wanted to create their dream home on Martha's Vineyard, they dove in without a moment of hesitation. Both believed that no task or challenge was too great.
Rewinding several decades, their story begins in up-state Troy, New York where Greg grew up. The couple met in college, married and started a family nearby. Along the way they purchased a historical home in the city, a 1790s Dutch style home typical of the area. Rich in history, Troy is a city on the Hudson River, a treasure chest of Victorian and Belle Époque architecture, furniture and design. Troy is also home to art, literature, and music lovers. Greg and Kristina had the right combination of elements there that would eventually inform their Vineyard project years later.
"Iadmired the Shakers' elegant and simple style, it hooked me, and I tried creating such works on my own," Greg says. Together they embarked, as many homeowners do, on decades-long home improvement projects, furniture making and decorating, honing skills and finding out what works best and is achievable. All this culminated in their Troy home being featured twice in local lifestyle magazine features.
As far back as the 1970s, Greg's family would regularly vacation on the shores of Massachusetts in a most unlikely spot – Cuttyhunk, the small spit of land at the western extreme of the nearby Elizabeth Islands. But he visited the Vineyard several times during these years, and like many, fell in love with the Island and harbored a dream of living here someday.
Years later in 1994, Greg and Kristina inched closer to that dream - with their two girls in tow - when they purchased a modest Cape-style "ranch" home for their annual Vineyard summer vacations. The place was a perfect starter home tucked on a quiet lane in Oak Bluffs in a subdivision boasting large building lots with ample space to expand, yet still maintaining a secluded sense of space, all in a woodsy setting. The house was modest, but they could immediately see the potential and started formulating ideas to realize their vision.
Though still living in Troy, the Pattisons vacationed here and occasionally rented the home for portions of the summer. Back in Troy, Greg had secured a job as a high school industrial arts teacher, all the while maintaining a woodworking shop where he made custom furniture for clients and his growing family. Kristina set about establishing a first-rate graphic design services business, building a continuing client base in the New York area.
Always tuned into the teaching job network, and keeping an eye open
for opportunities, in 2011 Greg spotted a shop teacher job opening on Martha's Vineyard. He applied, took an interview, and was offered the job on the spot to teach industrial arts at both the Edgartown and Oak Bluffs' Schools. Kristina and Greg moved here full-time, and that dream of living on the Vineyard and remodeling their vacation home was taking shape. "But actually achieving it would be much more difficult if we were not completely organized and working as a team," says Kristina.
And organized they were. Having renovated several houses before, Greg and Kristina had practical knowledge of the building trades. Kristina took the role of general contractor on the project. She actually drew the plans and had them reviewed by an architect. She was also was responsible for much of the interior style elements, including organizing rooms, specifying the flooring, wall colors, windows and doors, and finding furniture to complement it all. "The more information that you can provide to your builder about the details of your vision, the more likely you will not only get the design of your dreams, you'll stay on budget as well," says Greg.
One year after moving to the Vineyard, they were ready to start construction on the existing home. The scope of the project was quite ambitious and involved tying in a cathedral height, double-ended gable structure, which virtually doubled the home's footprint. They expanded and redesigned the kitchen, repurposed some of the existing rooms, and added an entry deck/patio with a spacious screened-in and enclosed porch. The project also called for a new foundation and a finished walk-out basement. "That kind of scope would require a master builder for the heavy lifting and keeping things ongoing day to day," says Kristina.
The Pattisons selected builder Geoff Kontje and his company 41° North Construction. Geoff's steady hand and experience took the process of interpreting their plans to dreams realized in only six short months.
Greg and Kristina's furniture, accessories and artwork collected during many years, which had been in storage, now became the focus to make the unified structure a home again. The couple's tastes border on the eclectic, a 175 year-old grandfather clock, for example, is paired with 1950s Danish modern pieces. "I like things that are not all of the same period," says Kristina. "And I'm not afraid of color."
The vibrant and open living area is dominated by massive "womb chairs" a signature 1940s design of Finnish-American architect and industrial designer Eero Saarinen, noted for his neo-futuristic style. The chairs share the space with a sofa by renowned Danish furniture designer Hans J. Wegner. To round out the room, Greg designed and built two matching accent chairs in homage to Scandinavian design. He made many other furniture pieces in the home including a dining table and a buffet/side board all in his own inimitable style. The seating area surrounds a built-in knee high fireplace which creates a cozy centerpiece. The spacious rugs are Chinese Art Deco, popular in the 1920s.
All the furnishings are very personal. "Everything has sentimental value and are family treasures, some acquired and some handed down," says Kristina. The white walls beautifully display her father's fine art paintings and her brother's striking photographs, as well as art collected during a lifetime. Large antique signs create a focal point on some of the expansive wall spaces. On one dining room wall Kristina mounted a spectacular collection of some hundred tightly grouped family photos and mementoes, each in vintage or distinctive gold frames.
Kristina's masterpiece is the kitchen. She gutted and expanded the original eat-in kitchen, giving the space a major facelift. "Who wouldn't want to design a kitchen from scratch?" she says. Kristina incorporated stark, white IKEA cabinets and traditional white marble countertops with all new appliances. The decor is highlighted by her collection of cobalt blue glass pieces. Tucked in one corner, Greg built a glass showcase cabinet that doubles as a spice rack. The light and airy kitchen opens onto a huge deck ideal for outdoor dining and entertaining.
Below grade, the well-lit excavated walk-out basement serves double duty as Kristina's office with a comfortable sitting area and a full bath she designed and tiled herself.
Last year's project was a detached building with guest quarters and a 1000 square-foot woodworking shop where Greg spends countless hours creating exquisite works of art. With more spare time after his Oak Bluffs teaching position was eliminated last year, Greg is now focusing on making contacts with local builders and keeping busy designing and producing furniture commissions.
In the end, after all the planning, teamwork, construction and finishing, Kristina and Greg now live in a comfortable Island oasis that is truly a reward for their high standards, hard work and creativity.
For more information contact Greg: 518.441.8161,
gregory.pattison@gmail.com
Kristina: 518.366.0967,
kristina@kristinaalmquist.com
www.kristinaalmquist.com
,
www.aadesigninteriors-ny.com
Geoff Kontje: 41 Degrees North Const., cell: 508-783-6442,
41degreesn@gmail.com