DRAWING BOARD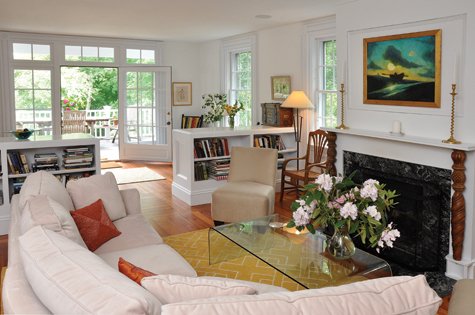 Waste Not. Want Not.

Paul Lazes renovates a Vineyard Haven Greek Revival Landmark
by Paige Turner
Fourteen years ago Paul Lazes brought his family to Martha's Vineyard from New York City and started a design business named Rock Pond Studio, incorporating a name that would signify a down to earth approach to the Island life style. After 17 years of specializing in Architectural Design and Interior Decorating, Mr. Lazes decided to focus his business on Custom Cabinetry for the Island and changed the company name to Rock Pond Custom Kitchens. "We arrived here with our four year old son, Avery. We wanted to spend more time together, and knowing the hours necessary working in an architectural office and how hard it is to start a full design practice, I decided a small business focusing on fine custom cabinetry was a better fit.

Our children are only young for a short time. I wanted to spend as much time as I could with our son" says Paul.

Avery is now on his way to Berklee College of Music and Paul is back to residential design. "I had been looking at houses since we arrived on the Vineyard, but only got serious several years ago when I started sketching and pricing out renovations of several houses on the Island. "I came across the Berkshire House, built as an inn in 1836 by two brothers in the Whaling industry. My brother Rick and I decided this was the one." The Berkshire House, a Greek Revival classic on William Street in Vineyard Haven became their first project. "Built as an Inn by two brothers, it now was being fully renovated by two brothers as well" says Paul.

The house had terrific potential, located on William Street in the heart of the historical district, it is situated on a protected walking path, with only a one-minute stroll down to Main Street. The house features a "peek" view of the harbor–a full view when the leaves are off the trees.

Having worked on residences in New York City built during the same era, Paul was fascinated by the difference in this building's engineering. Assembled with large timbers like a barn, this house was built before the advent of indoor plumbing and electricity. Although structurally sound, the building had sunk 5-1/2 inches in the 178 years. The house had 17 small rooms which would not be acceptable these days. Paul wanted to remove walls and create large open spaces. "Something had to give" he said.

Mr. Lazes hired Kent Healy to engineer the reconstruction. Healy is the type of engineer Paul likes to work with. "He does most of his calculations on the back of an envelope." says Paul. And the demolition began.

"I still regret not having the foresight to set up a storage area for materials removed from the building. I saved as much as possible, but ended up giving away nearly 1000 sq. ft. of flooring to one of the carpenters. I'll never make that mistake, again," says Paul.

Mr. Lazes' new design took 10 rooms, three hallways and a three story internal staircase and collapsed them into five large, gorgeous rooms. From what was originally a dark interior with typical 19th century sized rooms there is now light flooding into every part of the house and all the rooms are spacious. The Master Bedroom alone is a sumptuous 325 sq. ft. with its own fireplace.

"There were four existing fireplaces and we found a fifth during demolition which needed to be rebuilt. My wife, Jaime, and I were lucky enough to find a marble fireplace facade in Brimfield, Mass. at their annual event featuring more than 500 antique dealers. The facade is mid-19th century, hand carved white marble." says Paul.

But that's not all Mr. Lazes found to incorporate into this project. "We purchased 5 sets of doors - all fabricated during the19th century with each set entirely unique" he says. They include a 10' wide by 9' tall set of 1890's glass doors from a "cottage" in Prouts Neck, Maine, a stunning set of carved doors - either from Spain or Mexico and a set of eight foot copper-clad doors from the boiler room of the Museum of the City of NY. The cladding was for fireproofing. They are now polished, waxed and can slide to separate the kitchen from the Living Room.

Paul says "one of my strongest interests in renovating an older building is to make the new layout and the finishes appear seamless. I want the result to feel as if it grew that way." And Mr. Lazes has been successful. The house flows flawlessly with crown moldings throughout, large door casings milled to match the originals and reclaimed heart pine flooring stained to match the original flooring. It is now a stately home upgraded with state-of-the-art mechanicals–preserved forever.

The third floor is clearly new" says Paul. It had six tiny "bedrooms" presumably constructed to rent to sailors. Hundreds of ships would come through Vineyard Haven Harbor in the 1830s and we think the third floor was a dormitory." Now it is a single room, sheathed in pickled pine planking, with a sky-lit bath, open space, perfect for kids, an office or music room. Paul's rock-and-roll band "Random Thought" used the third floor as a practice space for several months.

"Although we've never been able to confirm the use, the third floor was presumably built for sailors with the first two floors reserved for the well healed clientele. We've learned it was eventually used by school girls from Chilmark who traveled to Vineyard Haven for their education" says Paul.

While the Berkshire House is documented in Walking in Vineyard Haven Massachusetts by James H. K. Norton, no one really knows the purpose of those six third floor rooms. All we know for certain is the six doors to those rooms ended up in Mr. Lazes newly-built Art Studio in his home on Lake Street. "Waste not. Want not."

The Berkshire House is located at 97 William Street and is back on the market for sale – turn key. Mr. Lazes still retains his Rock Pond Kitchen Showroom in Edgartown.