ARTIST PROFILE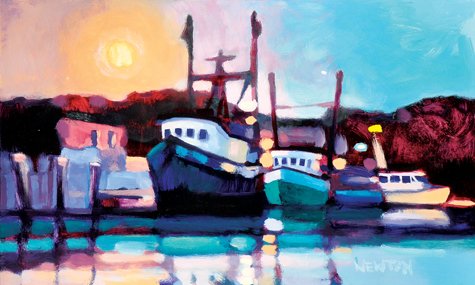 The Days and Nights of Brandon Newton
By Karla Araujo
Like the Sirens in Homer's Odyssey, the Vineyard's call to painter Brandon Newton proved too seductive to resist. Curious about the Island and open to a new place to call home for his family, this long-time Fredericksburg, Virginia, resident visited for a month in September 2011 and, almost to his surprise, found himself contemplating a major move. The following year, he, his wife, fine art photographer Juliann Newton, and his three children, Jack, five, Anna, 11, and Kaila, 15, spent the entire spring and summer on the Island, falling wholeheartedly in love.
"It's truly a magnetic point for energy," he says. "We felt such a connection to the environment. The phases of the moon and tides – it was amazing that people were so tuned into the natural world, and that they paid attention to these things."
Now living in a vintage farmhouse in West Tisbury, comfortingly close to Menemsha, a place he calls his "current muse," Brandon sounds like a man still in the early stages of a life-altering romance. Enthralled with the place, the people and the rhythms of this speck of land in the ocean, he speaks with a boyish reverence about the spirituality, discovery, the night sky, the warmth and talents of other artists, and the sense of community he has encountered on the Vineyard.
Settling into Island life and work has proved nearly seamless. Before he even relocated, a stroll through Edgartown yielded gallery representation. "In September 2012, I overheard Robin Nagle, director at North Water Gallery, say, 'It's time to start looking for new artists,'" he recounts. "I apologized for seeming nosy and told her I was a painter. She asked me to send her some images, then offered to represent me." Finding the gallery, he believes, was nothing short of fate. "When I walked in, I knew it was the one. They show amazing work, including Ray Ellis's, which I discovered there."
According to Robin, the attraction was mutual. "Brandon's paintings are spontaneous and upbeat," she explains. "His work has done well. I find in the two seasons I've represented him that he's formed quite a following of people that look forward to seeing new work."
His paintings capture the elements that so many Vineyard lovers find appealing: the natural beauty of the land and water, the quaint streetscapes, harbors, farm animals, boats and extraordinary light. And, while many of his settings are recognizable, Brandon's style is evolving, moving from the literal to the more suggestive. "I was first interested in detail," he says. "I tried to get it just right. Now my work is more impressionistic. I want to let the viewer finish it. The shape is getting looser."
Painting at night has allowed him to ease away from his earlier tendency toward realism. "I'm known as the 'Night Painter,'" he says, a reflection of his propensity to haunt the docks of Menemsha after dark. His portfolio now contains a large number of night scenes, paintings that Robin says intrigue gallery customers.
"We love his night scenes and enjoy sharing how the light transitions in Brandon's paintings when we dim the lights on them," she explains.
The night paintings distinguish his work from that of other Island artists and enable him to, as he puts it, "lose more inhibitions." In depicting a setting at night, Brandon says he tries to convey a general idea rather than specific details. "I'm still discovering and exploring so much," he offers. "It's not a polished thing. I'm learning what to do now, here. I'm completely open with my eyes, ears and heart." His favorite subject matter at the moment is, not surprisingly, the stars. "I'm trying to combine the stars and the land – something unique to Martha's Vineyard and yet as universal as the starry sky."
Painting both plein air and in his studio at home, Brandon finds no shortage of inspiration from both the natural environment and from the community of artists around him. He cites the work of Allen Whiting, Traeger di Pietro, Dan Vanlandingham, Marjorie Mason, Ray Ellis and Max Decker as influences.
Working exclusively in oils, often with a palette knife, he pushes himself to take chances. "I try to stretch a recognizable scene," he says. "To twist, bend or take just a fraction of an experience or the blur of a moment. I hope to improve my actual craft of painting. It's not easy to do it in fewer strokes or movements. Do you have to paint every leaf? I'm trying to be as efficient as possible."
While he was born in Florida, Brandon spent most of his childhood and young adulthood in Fredericksburg, Virginia. He had carved out a niche for himself in the historic downtown, painting iconic street scenes and pastoral settings while working in the home improvement trade. Deciding that producing faux finishes and murals was much less satisfying than fine art, he took a leap of faith and began to paint full-time. Moving to the Vineyard was, in many ways, an affirmation of that choice.
"Painting teaches me about life," he says. "It's something divine, larger than us. If you try to put out good energy, be as good as you can, things work out better. Painting teaches me about now."
Brandon's studio work is inspired by both plein air "sketches" and hundreds of reference images he shoots throughout the year. His canvases vary in size but he says he particularly likes to work small. In fact, he offers some of his smallest works, four-by-five-inch unframed paintings, for just one hundred dollars each. It's important, he feels, to make original art available to people who can't afford larger works. "The paintings aren't for me," he says. "The process is for me. I'd rather the paintings be with someone else."
Brandon used to man his own booth at the Vineyard Artisans Festival seasonally, in West Tisbury. "It was a lot of work," he says, "but it provided a unique opportunity to meet and have conversations with the folks who simply enjoy art." He has since decided to show his work exclusively at the North Water Gallery in Edgartown.
And, while painting is a passion, it is one of many. "My family is the center of my universe," Brandon says. When he's not capturing quintessential Vineyard moments, he may be fishing, crabbing, playing acoustic guitar, writing songs, or playing 18 holes at Farm Neck. Wherever he is and whatever he is doing, rest assured, Brandon Newton, the Vineyard's newest enthusiast, is doing it with verve.
For more information about Brandon and his work visit The North Water Gallery in Edgartown or click:
www.brandonnewtonart.com