SCENE AND SEEN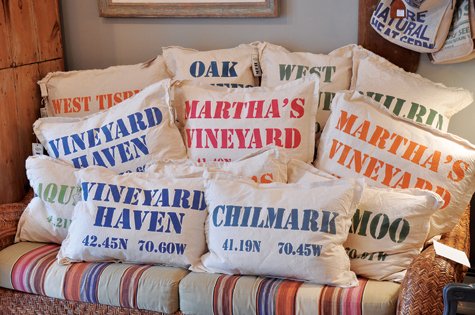 Brickyard

Adding Panache to Main Street Vineyard Haven
By Karla Araujo
With down-town Vineyard Haven looking more and more like a home design mecca, the opening of Brickyard adds yet another option to Main Street's already bustling home furnishings and accessories retail scene.
One-of-a-kind found objects, upholstered pieces, antiques, lamps, mirrors, stoneware, table linens, glassware, candles, lotions, jewelry, pillows, original art and much more fill the 1,000-square-foot shop at 19 Main Street.
Co-owners Kate Shanor and Scott Mullin share a love of all things decorative, with Kate acknowledging her shopaholic tendencies and Scott avowing his love for display. The perfect team, they forged a partnership to bring their eclectic melding of vintage and modern to the Island. Now launching an interior design service as well, they say they're committed to keeping their prices affordable.
"We're doing our best to hold prices," Kate explains, "so that we can serve the next wave of Island people – those in their 40s, their kids growing up, re-doing spaces or buying homes."
Scott concurs: "We want to be a bridge between designers and everybody. We even offer an initial design consultation."
Don't miss the unique handmade, hand-painted Island-themed pillows, vintage seed sack handbags and hand-selected treasures from the legendary Brimfield, MA, Antique Show. For more information, visit
www.brickyardmv.com
.