GARDENERS NOTEBOOK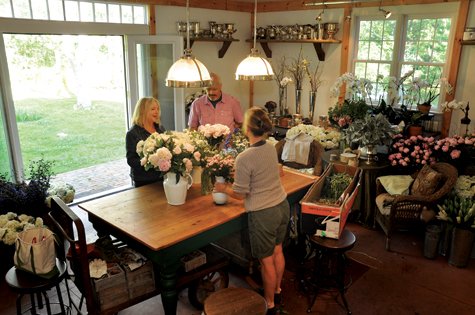 Flowers on the Vineyard

Louise Sweet creates floral magic for any occasion
By Jani Gardner
Louise Sweet, floral artist and stylist extraordinaire, has done it again. She and her husband James have created a fabulous and bucolic country setting incorporating their home & her styling studio with her new "Flower Barn." A spectacular and astonishing find, it is tucked deep into West Tisbury woods with rambling hills, dales, and unexpected flowers and views at every turn.

You will find her heavenly scented and beautiful fresh cut flowers nestled in among her massive collection of eclectic containers that are ever ready for whatever occasion… a premier wedding, celebratory event, or unexpected surprise. Louise is recognized for over thirty years as creator of never seen before, totally individualistic, pure floral magic.

Each wedding, event or occasion is one of a kind. She has an entire barn full of undreamed of creations and ideas. If you desire a golden oil lamp from a Persian palace or a vintage enamelware piece from Martha's Vineyard, Louise will find it for you. From a for mal wedding to an elegant reception to a relaxed dinner party, Louise will provide unforgettable flowers and then style, source, and coordinate everything from her own collections while working closely with the island's rental companies for the rest.

Louise steers her brides and party people into her always just right direction from A to Z, helping choose colors, florals, linens, candles, dinnerware, tent style, furniture, even lighting to create each individual's unique aesthetic. She storyboards every event, overseeing everything.

She'll quiz every client with the same basic questions: location, season, color palette, attire, number of guests, favorite flowers, favorite containers, formal or relaxed, round tables or long, simple or extravagant? Louise gathers the information and then begins to create a working proposal and once approved, begins to orchestrate each and every detail.

With all this going on, Louise still finds time for a daily trek around her amazing property, mothering and nurturing her remarkable number of flowers, trees, and shrubs, plus give instructions to her ever so talented work crew and staff.

If the tableau sounds astonishing, it truly is. She doesn't miss a beat and cannot wait to see what sort of adventure is right around the corner. She loves to see that glint in your eye as your ideas come alive and take shape in the midst of her flowering Xanadu.