CUISINE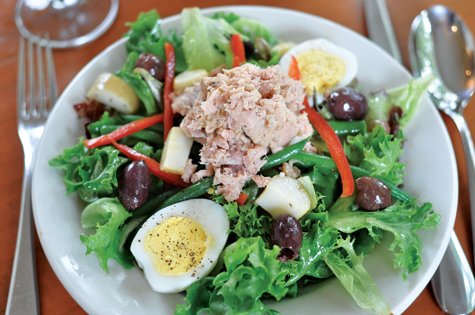 Fresh and Fabulous at the Little House Cafe

A dining experience that's always fresh, always delicious!
By Lisa C. Belcastro
Let's go to Little House," my girlfriend texted me last week. My immediate response was an enthusiastic "yes". My only hesitation came when we arrived at the Little House Café on State Road in Vineyard Haven and I had to choose between the curried mango chicken salad, which I confess to ordering almost every time I walk in the door, or the classic falafel sandwich, because Jo had ordered it last time and the aroma had tempted my taste buds.

Two days later, in an office for an appointment conveniently scheduled around lunchtime, orders were being taken for a run to the Little House Café. No menu was needed. Emma ordered her favorite fish tacos, Abby the sesame noodle salad, and Dee the French lentil salad. I felt right at home – women who know what they like and are happy to order the same delicious dish time after time.

The reason Little House fans return again and again is straightforward. The Little House motto, "Always Fresh, Always Delicious!" is true.

Business partners Merrick Carriero and Jenik Munafo serve food with clean, distinct flavors, largely Mediterranean. "Simple preparations are key here for fresh and delicious entrees," said Jenik. "We make and serve at the restaurant what we would make and eat at home."

Long before the ladies opened their restaurant, they would sit, talk, and eat pepper jack grilled cheese sandwiches. Now it's on the menu.

"Our menu represents years of previous experience and then things I wanted to try," said Merrick. "We have a really great base of ingredients that we can cross over for multiple recipes."

The Little House core menu has remained the same over the last three years with a few items added on. "Originally we were going to be seasonal and change the menu throughout the year. That didn't work. People liked the food and didn't want the change. It was more natural to add onto the menu," said Jenik.

The "adding on" is a long process. "We go back and forth for days. Make it, taste it, make it, taste it, until it's right. It's important not to throw something on the menu that hasn't gone through the process of checking and checking again," said Jenik. "We were going to add another sandwich this summer, but ran out of time to do the taste testing so we put the idea off until fall."

The strive for quality is a reflection of the love and dedication the four partners have put into the café since the idea became a business proposal.

Jenik, an artist who paints on wood with oils and integrates fabric into her art, came to the Island as a child and grew up here. After college, she traveled to South America where she met her husband, Hocine Khelalfa. The couple operated a small café in Ecuador for two years, then Jenik wanted to come home.

In 1998, while waitressing at Café Moxie in Vineyard Haven, Jenik met chef Merrick Carriero. The two women became fast friends and stayed close after Merrick left Moxie to raise her two sons, now eight and ten. When Hocine broke his shoulder doing construction work, the women, along with their husbands, formulated a plan to open a restaurant.

In July 2010, they opened the Little House Café. "Initially we all started out working here. Merrick ran the kitchen, her husband Steven was doing a variety of jobs, I baked and maintained the books, and Hocine was cooking, too. In the fall, the guys went back to working in the trades. Now Merrick works breakfast and lunch and I am here for dinner," noted Jenik. "Merrick has cooked every breakfast since we opened. She is very dedicated."

Sitting in the restaurant mid-morning in early August, Merrick is definitely busy. Though the spacious, sun-lit dining room is in flux between the breakfast and lunch crowds, there's a handful of tables ordering, a lunch menu in need of organizing and the early prep for dinner lies in wait.

"I love the action," said Merrick between orders. "I love the speed, trying to keep it all together and keep the kitchen calm."

Many of the Little House recipes are original creations or ones adapted from family or friends. Merrick is also quick to give credit to one of her favorite cookbooks, Raising the Salad Bar. "I love cookbooks and magazines, but I definitely have to take my hat off to Catherine Walters."

As the children go back to school and the gorgeous days of September and October invite us to spend as many hours as possible outside, now would be the time to try six of the Little House Café's trademark recipes. Treat your spouse or a friend to a green breakfast that is simple, nutritious and taste-a-licious. For those of us with spinach growing in the garden, the roasting recipe can, and will, be used for lunch or dinner options, too.

As friends and relatives visit the Island this fall, impress them with three easy, tasty and well-balanced lunch options. Merrick's famous fish taco recipe has been altered slightly for faster prep time with pan searing. The tofu in the Gado Gado is also pan-seared for ease in home preparation.

An added bonus – many of the entrees at the Little House Café are naturally gluten-free. The Green Breakfast, Nicoise Salad, Gado Gado vegetarian dinner and the Flourless Chocolate Cake recipes are all gluten-free options. Enjoy!


Nicoise Salad
serves 2

Ingredients
1 can of oil-packed, yellow fin tuna
2 hard boiled eggs, cooled peeled and cut in half
1/2 cup green beans, blanched in salted water for 3-5 minutes
1/4 cup red peppers, julienned
1/4 cup baby fingerling potatoes, cut into bite-size pieces, boiled until tender, drained and cooled
1/4 cup Kalamata olives
salt and pepper
Mixed greens

Method:
• Toss greens in a salad bowl with House Dressing (see recipe), divide between two 
   salad plates
• Toss the peppers, potatoes, and green beans also in house dressing and place
   mixture on top of greens.
• Squeeze out excess oil of tuna, divide equally and place on top of vegetable mixture.
• Season egg with salt and pepper and place on plate.