TRENDS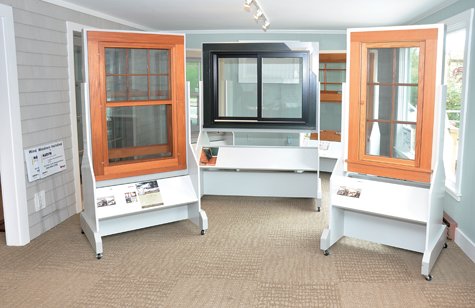 Marvin Design Gallery
Last spring, the Marvin Design Gallery by MHC opened its doors on State Road in Vineyard Haven, ushering in a convenient new way to shop for top quality windows right here on the Island. Owned by Marine Home Center on Nantucket, the new Vineyard location is an offshoot of the company's 8,000-square-foot Marvin showroom in Hyannis.

Norman Lobb, window and door expert at the Gallery, is an Island resident with forty-five years of building industry experience, more than twenty-five in window sales. So if you don't know a mullion from a muntin, Norman along with outside-sales associate Austin O'Brian are the men to see. They can guide you through Marvin's more than 150,000 energy-efficient window and door choices that can save you, according to the U.S. Department of Energy, from fifteen to twenty-five percent on monthly heating and cooling bills. Plus, the Gallery's window and door displays help take the guesswork out of the plethora of attractive finishes and state-of-the-art materials.

The Marvin Design Gallery serves homeowners, architects and builders. Need an installer? They can provide that too. So take your window and door questions to Norman. He's the guy who knows the difference between extruded aluminum and pultruded fiberglass. Just ask!

Marvin Design Gallery by MHC, located at 383 State Road, Vineyard Haven, is open Mon.-Fri. 8am to 4:30pm or by appointment. 508-696-5760.