GARDENSCAPES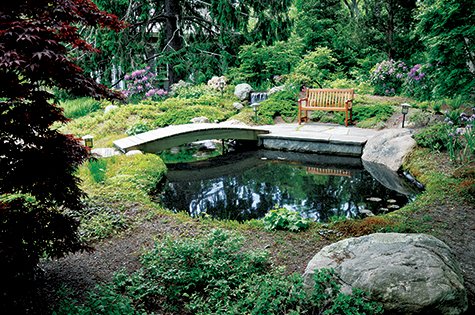 Indigo Farm

Creating Landscapes Inspired by the Spirit of the Vineyard
by Olivia Cameron
At Indigo Farm, cultivating relationships with the land is part of sustaining relationships with people. They use organic methods, natural plantings, and focus on environmental preservation as well as aesthetic harmony
in landscaping.
"We've built strong relationships with our clients. They continue to work with us as they develop their properties over the years," says John Goodwin, co-owner with Mike Turnell since 2009. "It's really beautiful." That's no mean feat when you've been in business for more than twenty years. Incorporated in 1995, the company grew out of collaboration between Sanford Evans of Sanford Evans & Associates, Steve Sinnet of North Wood Firewood, and his employees at the time, Alan and Michael Turnell, as well as landscaper Peter Robinson.
They created Indigo Farm with three key working principles: the importance of understanding Martha's Vineyard's ecosystems, climate, plants and landforms; the preservation of each site's existing landforms and using organic planting methods; and the commitment to beautifully and creatively built landscapes. Sanford Evans' environmental knowledge and interest actively influences the work of Indigo Farm today. "We're fortunate, we have people working with us who share the same ideas as the core founding principles," says Elizabeth Mahoney, Office Manager and Design Assistant.
Mike started at North Road Firewood on the build team. In 2001 he received a degree in Landscape Architecture from UMass Amherst and is now lead designer and build foreman. "I like to be hands on, I don't want to be in an office all day. I want to be in the field, designing on site. I do a drawing to have an idea for the client and then go into the field and actually build it with the team. Things can change in the field. Elements of the design get moved around and the design just develops naturally," he says.
John started out mowing lawns for a company whose main focus wasn't native plantings and natural methods. Indigo Farm's emphases on these things were appealing to him. He started mowing lawns for them in 1997, and then moved to maintenance. He eventually moved over to the build team and became foreman. "I like that part of it, the day to day hands on and hardscape construction part of it."
Indigo Farm works on a variety of projects across the Island, from small in-town properties to woodland settings to seaside properties, each of which presents its own challenges. "You can control movement through space, in how you design it. If you're designing in town, you're walking slower. But if you're out in the woods or you have tons of space, people tend to walk faster. Sometimes when I have to have inspiration for a small space, I go to town and look," says Turnell. "There's always something on every project that stumps me, but every problem has a solution."
As far as the design process goes Mike emphasizes to clients that the team can develop the project in phases. If they want something particular but can't afford it, they can have it, just on a smaller scale. The team works with size or budget limitations to create the same feeling. "I get their thoughts, what would they like, how do they use the space. I ask, can I come back by myself and just walk around and see, you know, are there natural features on the property, is it in town, is it on the north shore, is it on the south shore? The land formations are a big thing and how to incorporate them. What can you work around, what do you use?" He also takes into account surrounding landscapes and distant views.
"I call those borrowed landscapes. You don't own it, you don't have to pay for it, but if you can create a view channel, you can experience your property as much bigger. I look for that."
A small but dedicated team manages all components of landscape design, build, maintenance and development. This includes Robin Brown, Garden Designer and Head Gardener. "A lot of people working for us have strong Island roots or grew up here. They have a passion, they have a strong history, and it shows in their work," says Turnell."
"Landscapes evolve. You can go back to a place you've been visiting for twenty years, it's a different view," says Turnell. At the end of the day, the landscaping is about connection to a space as much as reshaping it – Turnell encourages clients to spend time with the property, getting to know it and the ways they interact with it. The beauty of working long-term with a landscaping company is that as people change, as the land changes, they can also change the property to meet their needs, without losing the integrity of the underlying vision."
"I like it when the client is involved. I like their vision on it; it just makes a better overall environment for them. You're creating your space, and it's better for me to know what you're looking for – what colors do you like on a plant? We strive for native plants, but if they really like something else, we incorporate that. If you want a rose, we'll give you the right rose that we know is going to work in this environment. We usually tell people, we know what plants will work, through experience, so we're going to introduce those to you and see what you like." says Turnell. "I'm not going to tell you what to do, my job is to guide you, through my experience and my knowledge."
For more information about Indigo Farm, 508.696.6114,
Info@indigofarm.com
,
Indigofarm.com