ARTIST PROFILE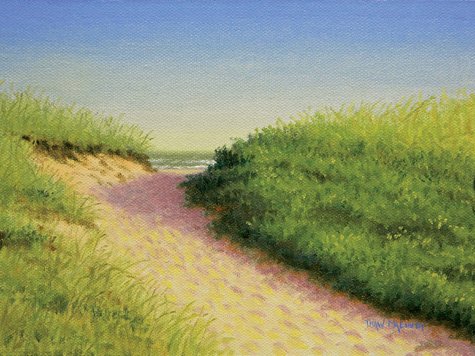 Thaw Malin III

Good Light Hunting
By Gwyn McAllister
Artist Thaw Malin III has had to reinvent himself a number of times over the years. After forging a successful career as a watercolor artist who showed his work at various galleries on Martha's Vineyard, he swapped that medium for oils. In 2005 Mr. Malin became a snow bird for 5 years to be near his aging parents in Texas. That move inspired a new focus on small 6 inch by 8 inch daily paintings, featuring southwestern ranch and desert scenes there and seascapes and island scenes when on the Vineyard. Realizing the loss of image continuity for his Vineyard gallery connections, Thaw chose to auction his small paintings on eBay to gain a broader national and international audience. The small works continued as a major theme, posted each day on eBay and his website through 2013. Then followed a four year sabbatical, punctuated by paintings for the Martha's Vineyard Conservation Society and the M. V. Garden Club Blooming Art Gala, but Thaw focused on designing and building the home and landscape he inhabits. And now, a return to painting large canvases as well as the small.
The one thing that has remained a constant throughout is the method that Mr. Malin employs. The concise artist's statement found on his website says it all. "Whenever possible, I work en plein air, out in the countryside."
"It's just one of those things that when you see it, feel it, smell it, it just flows," says Mr. Malin. "I love any kind of weather, except rain. There are so many incredible things that happen to a scene. Sometimes it just gets ten times better while you're out there. The sunlight changes or a boat passes by. I'll realize that if I had just gone out and taken photos I never would have had that experience of the landscape talking to me. Staying in one place and letting the landscape shift on me–animals move, clouds pass, boats sail on–it's like a time exposure and I get to pick and choose the best."
This sense of intimacy comes across in Thaw's work and no doubt accounts for his continuing success as an artist. Anyone familiar with the Vineyard will most likely share the emotional impact that Mr. Malin so expertly manages to impart to his landscapes.
His connection with each scene is obvious not only in the visual record, but also through the descriptions he includes with each of the paintings that he posts on his website. It's clear that sometimes his emotions take over, often subverting more practical considerations.
Case in point, the story behind a captivating scene of a dinghy trapped in ice, waiting out the spring thaw on wind-swept West Tisbury Great Pond near Sipiessa is described thus:
"I really wanted to paint a snow scene, but the sun was leaving fast. Driving out to a nearby favorite sunset place, I found many of the oystermens' boats frozen into the pond's ice field. I became involved and jumped out of the car onto the snowy shore and photographed the play between the light and shadows of this boat. I was resigned to using just my camera, as it was cold, 21º with a slight breeze and minutes before the sun would set. But, the pent up urge of not painting for too many days overtook me. Grabbing my gear I raced to the edge of the snow/water/ice and dashed this piece off until the sun had set. Concentration took over my common sense and, even with gloves on, my fingers got so numb that I could not open the clip on my board to put away my paper towels. With the warm car right there, I didn't bother, and put stuff away helter skelter, grateful to still be able to open the door handle and jump inside…"
The resulting image from this incautious outing tells the tale. With the setting sun casting lengthening shadows over the pond and giving a blue glow to the snow, one can really feel the chill in the air and appreciate the absolute stillness of the scene.
This painting is an example of the small works series that Mr. Malin initiated while in Texas part-time. For eight years the artist set a goal for himself to do a painting a day, which he offered–and continues to offer–for sale online.
"I learned so much about how to be quick," he recalls. "I would try to limit myself to a big brush and two hours outdoors. After two hours the light changes too much. You lose what drew you there in the first place. Then I would come in to the studio. Sometimes I'd work for four more hours. Sometimes I'd just add a touch here, a touch there. My primary motive was to work fast. You let your intuition guide you. In doing that one is basically forced to distill the process into a more coherent push and pull of the space. You get the essence of the atmosphere on the canvas much faster."
Oftentimes, Mr. Malin is inspired to revisit the scene of a small painting, which he offers for $600, to explore the landscape more thoroughly in a full size piece. In this way, the small works serve both as fully realized images and as studies for the highly evocative large works that the artist sells ranging from $5000 to $20,000 +.
"The little ones are exciting to do," he says. "They come and go quickly. With the big ones there's a lot more real estate to cover–more room to be playful with the painting. You can have much more fun with the color on a large canvas. There's a little less spontaneity in those big ones. That's something I try to bring from the small works to the bigger ones."
At the other end of the spectrum are Mr. Malin's pointillist paintings that require months of intense detail work. Currently in his studio is a very large extreme close up of a morning glory flower made up of tiny dots of color. "Part of the process of painting that way is to let the vibration of the undercolor come through," says the artist.
One has to look very closely to see what Thaw refers to. The thousands of tiny dots of the primary color are laid down on top of the complementary color, which gives the image life and makes the vibrant blue of the flower "pop". The artist points to other paintings done in a more traditional style and explains that he uses the same technique in these by applying an undercoat in a complementary hue to make, for example, a grouping of lemons radiate a lively, yet very natural yellowness.
Building from his foundation of grad school M.F.A. work, this is a method that Mr. Malin has spent years perfecting, beginning while he was a student at Cape Cod School of Art studying the Impressionist Landscape. He notes that both artists Jules Worthington and Marjorie Mason – two good friends – also attended there.
It was through Mr. Worthington's wife Judi that Mr. Malin met his life partner Cynthia Bloomquist. They now live in a lovely home off Old County Road in West Tisbury where they have converted a former garage into a studio. For the past four years, the couple has been working on reconfiguring the home and creating a wonderful landscape on the property complete with manmade natural swimmable pond, a terraced rock garden with a cascading waterfall and various earth-worked garden rooms to bring the Island's beauty literally right into their backyard. "We are creating a landscape worthy of a plein-air painting," says Cynthia.
The two share a passion for nature, which has extended to Ms. Bloomquist often joining Mr. Malin on his frequent forays into the field. They enjoy the time together and Cynthia is becoming quite a skilled artist herself, as evidenced by a number of her small landscapes exhibited throughout their home.
Ms. Bloomquist can be found side by side with Mr. Malin, whether capturing a scene in a favorite Island spot or working on the gardens. She's generally willing to brave some rough weather, but not quite as dedicated as her partner, who has been known to set up shop in his truck when wind or rain or hurricane interfered with his work. However, Thaw has rarely forsaken a good opportunity for the comforts of home.
The relationship works in part because the two share a passion for art, as well as nature. Ms. Bloomquist has been collecting artwork and dabbling in painting for many years. Mr. Malin notes that he often is out in the field until past dark, delaying dinner and making a more conventional life all but impossible. And if there's one thing that Mr. Malin is dedicated to–it's working as much as possible outdoors.
"Sometimes I get up at 4:30 or 5 and start painting in the field before the sun comes up," he says. "You have no idea what will happen once the sun starts to rise. Other times I go out at 6 in the evening and stay out until 9 or 10. It's amazing how many people will leave when the sun goes down. If you stay about a half an hour after sunset you get this incredible luminosity of the landscape."
Clearly the aesthetic generally trumps the practical in Thaw's world, so finding the right mate has made all the difference in his life.
"Luckily, I finally met someone who I really, really connect with," says Mr. Malin. "We're painting a life together now."
For more information or to see more of Thaw's work check out his web site: www.thawmalinart.com, on Facebook at:
thaw.malin
, or e-mail at:
thaw3@mac.com
. On his web site are the wonderful anecdotes chronicling Thaw's work: every painting has a story.