CUISINE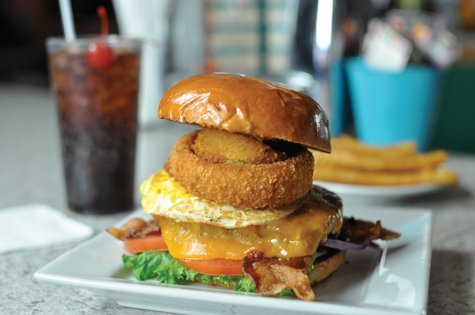 Taste'n and Feel'n the Love

Flash Back, Jamaican Forward at The Edgartown Diner
By Lisa Belcastro Photography by Charlie Utz
Who would have guessed that a one-week vacation to Martha's Vineyard would chart the course for a young man's life? But this is the Vineyard, and those of us who love the Island, know the pull it has on our hearts. Such was the case for Ralston Francis.

As a young culinary student enrolled at Southern New Hampshire University (UNHU), Ralston Francis had grown up in Jamaica, worked in the States over three summers in New Jersey and Florida on a J-1 Visa, but he'd never visited Martha's Vineyard.

While working at a restaurant in New Jersey during the summer of 2010, Ralston met his now fiancée Mavis. A year later, Ralston was studying at SNHU and Mavis was working on the Vineyard, where her mom was a hostess at The Newes.

"I came for a week's vacation back in 2011 to visit Mavis. I fell in love with the Island. It reminded me of Jamaica." Ralston smiled, then chuckled, and added, "I'm from the Caribbean, but I love the cold."

Ralston's love of the Island didn't fade when he went back to SNHU. He told Mavis he wanted to move to the Island. Within a matter of months, the stars aligned for Ralston's wish to come true.

Mavis' mom, Esther, who had worked at the Main Street Diner, told Ralston the diner's chef was leaving at the end of the season and suggested Raltson apply for the position, which would start in spring of 2012. Ralston interned in Atlanta to finish his college requirements, graduated from SNHU, and headed to the Island in April 2012 to be the new chef at the Main Street Diner.

Three years later, at twenty-five years of age, Ralston bought the Main Street Diner from Glenn and Sandra Ward. He closed in November for some minor updating and renovations, and then he reopened as the "Edgartown Diner" for Christmas in Edgartown weekend. Since then, it's been one sweet ride.

"Owning the Diner is a little bit of a journey, a little bit of an adventure. It's a fun experience." Ralston smiled, and added, "Once you do what you love, it all works out."

Ralston had made a few changes on the Diner's menu when he first started working there, but after he bought the place he brought his favorites to the menu with a touch of Jamaica added in.

"My mom made great fried chicken, jerk chicken, and curried mutton. She inspired me. I always wanted to cook," said Ralston. "In 2016 I added fried chicken, jerk chicken, corn bread, and new salads."

While Ralston made changes on the menu, he hasn't touched the classic 50s diner decor–funky, fun signs lining the walls, comfortable, roomy booths, twirling counter chairs, bright colors, a black and white checkered floor, and a true homey feel. "I'll never change the theme," Ralston said. "You come in the Diner and it's like you step back in time."

As with many diners, breakfast at Edgartown Diner is the most popular meal of the day . . . all day long. Lunch is busy, and Ralston sells lots of Philly Cheesesteak sandwiches, hot Pastrami sandwiches, and burgers, as well as salads. And for dinner, you guessed it, the classic diner turkey dinner as well as Ralston's Jerk Chicken are top sellers.

"I want to keep the traditional diner food while adding specials and personal favorites," said Ralston. "We roast the turkey here, so it's always fresh. And we make a great meatloaf too."

I'm with the crowd who can eat breakfast all day long. Edgartown Diner has lots of great choices, and Ralston has shared two of his breakfast favorites with us.

If you like banana bread, you are going to love Ralston's Banana Bread French Toast. I know – makes your mouth water just reading about it, right?! Ralston has shared with us his recipe for banana bread, but you can pick up a loaf at a local bakery or Morning Glory Farm if you're short on time. One suggestion: use real maple syrup!

I don't know about you, but I happen to love Eggs Benedict. I love the classic Benedict, the crab Benedict, the lobster Benedict, but I had never heard of Ralston's invention: The Southern Bennie.

The word "southern" should have given away the new ingredients, but I admit I wasn't expecting to find fried chicken and corn bread in my Benedict. Yet that's exactly what Ralston has on the menu; a Benedict with corn bread, fried chicken, poached eggs, and gravy. His idea took off, and it's the number one seller on the menu. And, since Edgartown Diner serves breakfast all day, folks order the Southern Bennie for lunch and dinner, too.

The recipe is easy to follow. "You have to season the chicken the night before, so you get the flavor you're looking for," said Ralston. "When frying the chicken, let it rest to drain the oil before you layer it."

The final step, which is crucial for this cornbread lover, is to "toast the cornbread in a lightly greased fry pan or on a skillet, so it gets a nice crust, then layer the fried chicken, egg, and gravy on top so it's all hot."

Anybody else love a good jerk chicken? I sure do, something spicy and tangy that doesn't burn my mouth but tastes great. Ralston has a super good recipe that he's shared with Vineyard Style readers. The recipe is easy to follow, but if you want your jerk chicken as delicious as Ralston makes his don't skip the marinating or the hickory smoking.

"Marinate the chicken overnight so the flavor blends," Ralston said, adding, "I mark the chicken on the outdoor grill. I put a few hickory chips in the grill to get a smoky flavor, and grill on each side about three minutes to mark it before cooking the chicken in the oven."

If you're looking for a pretty and flavorful side dish for your jerk chicken, you're going to love Ralston's Watermelon Salad. "The arugula is slightly bitter. The watermelon is sweet. The feta cheese is a little salty, and I add blueberry for another burst of flavor," said Ralston.

With its red, white, and blue colors, Ralston's Watermelon Salad is brilliant for Memorial Day parties, Fourth of July picnics, Labor Day barbecues, and every occasion in between.

Diners have burgers on their menus, but Ralston's got a burger for the record books! When I looked at the Brunch Burger, I admit I was overwhelmed. Ralston tops this burger with bacon, cheese, a fried egg and onion rings, as well as lettuce and tomato, and all that is between a bun. Whether you try to make it at home or order it in the Diner, be hungry when you sit down to eat.

"Construction workers want something filling, so I came up with the Brunch Burger. I figured why not put everything on it." And so he did. Ralston said he fries his eggs, "but you can cook the egg over easy if you want." The recipe is simple and straightforward, and every hungry person in your vicinity will thank you.

What's a diner without milkshakes? Ralston has thick, whipped cream topped shakes on his menu. He offers vanilla, chocolate, strawberry, coffee and cherry and being honest saying that "the freshly whipped cream is the best part."

My childhood memories of the local diner include eating an ice cream sundae, sitting on a counter stool, spinning in circles between bites while laughing with my friends. This summer I think I might have to recreate that scene with Ralston's Brownie Sundae, though I won't have the twirling stools at home. I bet your friends and family will thank you for this delicious dessert. And don't forget–extra whipped cream is always a good thing.

Edgartown Diner now has a full liquor license and Ralston's shared his Rum Punch recipe. His secret– "real Jamaican rum. It's 63 percent alcohol content does the trick." One sniff of the rum and I was convinced Ralston had the good stuff in stock.
The Edgartown Diner is open daily May through November for breakfast and lunch. Beginning in June, the Diner is open for breakfast, lunch, and dinner. Ralston keeps the Diner open in the off season, serving breakfast and lunch on Friday, Saturday, and Sunday from late November through April. You can check out the menu and serving hours at their website: edgartowndinermv.com.

Ralston hosts six Caribbean nights each year. He advertises them on Facebook, Instagram, Twitter, and the local papers. Stop by Edgartown Diner for the meal of your choice, say hello to Ralston, and wish him and Mavis the best on their upcoming nuptials this September.

As I was leaving the Edgartown Diner, I was struck by a sweet thought: One could say that in cooking Ralston found what he loved and also found the love of his life.


Jamaican Jerk Chicken
1 chicken, cut into 8 pieces
Ingredients for Marinade:
1 medium red onion, chopped
4 garlic cloves
4 Scotch Bonnet or 6 small Habanero peppers, stemmed, seeded
8 scallions (white and pale-green parts only), chopped
2 tablespoons chopped fresh thyme
1 1/2 tablespoon salt
1 tablespoon kosher salt
1/3 cup garlic powder
1/3 cup onion powder

Directions:
1. Make marinade: Put all ingredients in a food processor.
2. Put marinade into a large plastic bag or large bowl. Add chicken and toss to coat. Transfer to the refrigerator and marinate for at least 30 minutes and up to overnight.
3. Heat grill to high. Grill chicken to mark then transfer to the oven and cook through at 350 degrees for 40 to 55 minutes.
4. We recommend serving with jasmine rice.
5. Garnish with chopped green onions.