HOME PORTRAIT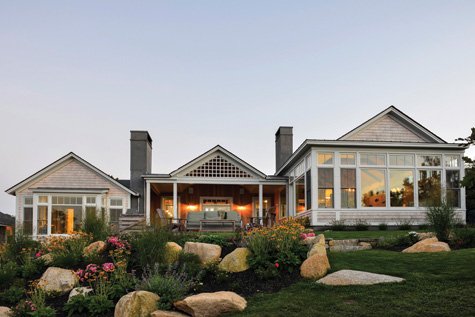 Breese Architects: Authentic

A Collaborative Studio in Vineyard Haven
By Gay Giordano
On Martha's Vineyard almost nothing is higher than the tree lines, and every structure is human scale. There are no developers battling for skyline rights and massive gestures. It is an insular and private island but it is not generic. Opportunities for exciting new designs and inspirations are here if you create them. As Peter Breese of Breese Architects sees it, "There are few rural places in the U.S. with international panache. The Vineyard maintains an identity of its own. Even architect Sir Norman Foster chose the Vineyard!"
Their projects are conceived from creative ideas rather than conceptions of "style". Inspiration is drawn from traditional and vernacular languages, modernist approaches from the 1940s through the 1970s, shingle style, contemporary open plan, rustic, and many other sources. Each project has a timeless look and feel yet transcends classification in any particular style. The project's style evolves as they learn what each client aspires to, and is comfortable with.
Breese Architects' approach is built on ideas of architecture that transcend a utilitarian result. Peter believes, "It's a creative process that results in this completely unique home or structure you're going to build. The house is not custom unless it's about the land and the client." The uniquely collaborative studio of Breese Architects consists of architects Peter Breese, Darran Reubens, Nick Waldman, Guntars Lakis and Interior Design Coordinator Amanda Highbloom, and Management and Marketing Director Kathy Pogue. The diversity in age, gender, and background is a strength, offering perspectives and experiences that inform the built result.
Nick Waldman describes their round table approach: "We each contribute to the studio in the finer details. On the architecture side, Peter does the schematic design and Darran, Guntars and I describe how it's built. The richness of architecture can come out through those details. Peter can see the schematic design, the massing, the expression of structure – that's how his mind works. Our team will zoom in and see how the pieces get put together; often including the built-ins, furniture, and casework."
Peter adds, "All of us keep a different catalogue in our heads: from our travels, our origins, our education, the books we read. We combine our experiences to access a myriad of sources. That's where our design ideas and images come from and what attracts people to this office."
Darran Reubens, an architect from Mumbai who was educated in India, came to the U.S. because, in his words, "Americans have high architectural literacy. In India there is a lower understanding and respect for architecture. American and European architects are commissioned in India for their developed sense of design. Louis Kahn and Le Corbusier worked there. So how does architecture define a place? In the buildings you notice and in the anticipation of what they will be. In Martha's Vineyard there are buildings that you will only find here. For instance, our Beach Street offices and the new Vineyard Haven Yacht Club."
Peter adds, "Clients come to us for direction in how to make their sense of style a complete built experience. It's a holistic process. We start out thinking from the right side of the brain. As the design takes shape and gains approval, we shift to more vertical and linear thinking to make it a reality. The other piece is connecting natural materials with the outside and inside. We feel our way into the proportions and dimensions. It's not the product we repeat, it's the process."
Nick Waldman attributes the firm's success to the fact that, "Most of our clients are drawn to architecture where convention is not part of the equation. Architecture is about what convention means. Each project is born out of its site, constraints, and environment. That's where architecture comes from, not repetition of a predetermined style."
Of primary concern in the building of new houses today is the issue of sustainability. "Sustainability did not begin in the 21st century," Peter explains. "We have been concerned with active/passive solar since the 1980s. We took these measures before many people were aware of it. Architects ended up losing track of the creative side. Architecture is not simply a building science, it is an artful combination of building science and structural engineering. You don't want buildings that will fall down in a few years. Expressive timber frames, great volumes and walls of glass - you do not have to pick one and rule out all the other aesthetic opportunities that come from that movement."
Breese Architects completes their projects with interior design services. They create unique furniture and customized light fixtures, and many unexpected surprises pop up in their work, like curved ceilings, connectors between rooms that share space with the outdoors and carefully planned windows that capture views like landscape paintings.
The two office buildings they designed on Beach Street in Vineyard Haven are a convincing model of what they do. They continue to attract people with their elegant style, large light-capturing windows, subtle massing, and the respect they show for authentic Vineyard architecture. As with all Breese buildings, you want to knock on the door and be invited in. And because this is the Vineyard, you would be most welcome.
For more information regarding Breese Architects call: 508-693-8272 or log onto
breesearchitects.com
or by E-mail:
office@breesearchitects.com