CUISINE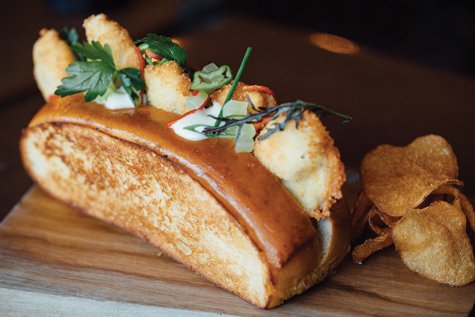 A Perfect 10 at 20 by Nine

The Hard Work of Four Owners and One Chef Pays Off for All of Us
By Lisa Belcastro Photography by Adam Jaime
I love a great surprise. Who doesn't, right? When my editor called me with the latest restaurant feature, I was curious. I hadn't been to 20byNine. I'd heard it was a great whiskey bar, which didn't entice me. Charlie, my editor, assured me the food was good. He lied. The food is fantastic! Fantastic in the sense that you eat there one Saturday night and the following weekend you go back because you're still thinking about the meal you had six nights ago.

The menu offers large and small plates, as well as "snacks" and cheeseboards. A friend and I indulged in the Chef Selection Charcuterie and Cheese Board, Mason Jar Ricotta, Shrimp Toast, Spring Carrots, and Lobster Fritters. Not only was the food delicious, it was truly one of the most beautiful presentations.

Executive chef Scott Cummings created a visual feast for the eyes that almost made me feel guilty for eating his masterpieces. The food was so eye-catching that my vegetarian friend was tempted to try all the meats. (She did repent on Sunday and returned to vegetarian life – LOL)

"Scott wanted to be an artist. He loves art, sketching, and colors," said Adam Jaime, the manager and one of the four owners of 20byNine. "Scott comes from a fine dining background. Here, it's rustic but chef-driven, worked up in a beautiful way with great flavors."

20byNine opened in 2014 after many years of foodie discussions between Adam and three Island friends. Adam arrived on the Vineyard via the U.S. Coast Guard. When he left the Coast Guard, he ended up working in D.C. Three of his Vineyard friends, Doug Abdelnour, Steve Ansara, and Dave Gaffey, went down to visit him every year. "We'd wine and dine at the best restaurants and talk about creating a great place on the Island, reflective of the city but with a Vineyard feel," said Adam. "In February 2014 this spot on Kennebec Avenue became available and we snatched it up."

Chef Scott had been working at The Outermost Inn before he joined the staff at 20byNine in March 2014. "We gave Scott the vision, and he took off with it," said Adam.

Chef Scot has shared a few of his signature dishes with Vineyard Style. I'll be making the Ricotta this weekend for a dinner party. "Ricotta can be fickle, but it's achievable," said Chef Scott. A few helpful hints will make your ricotta fabulous. First, be extremely careful not to burn the bottom of your pan. "Keep the heat on low – always," said Chef Scott. "And use freshly-squeezed lemon juice. It's worth the extra effort."

Here's the best part of Scott's ricotta recipe: "The sky's the limit. The base ricotta is just a vehicle. You can do anything with it," said Chef Scott. "Fold in red pepper puree, or black pepper, anything you want."

The Spring Carrots are simple to make yet oh so good. Chef Scot's hint for the avocado side will be the difference between pretty avocado and an unattractive brown mess: "Don't run the blade too long. The blade gets hot and will turn your avocado brown."

The Oyster Po Boy is very simple to make at home. Simply increase the recipe based on the number of people you'll be feeding.

The key to the shrimp toast is in the cooking of the shrimp. "It's easy to overcook shrimp. Poaching it in olive oil helps to give it a nice soft texture. I like the shrimp translucent in the center," said Chef Scott. "The star of the show, though, is the garlic sauce. You want the oil to percolate, little bubbles, for one to two hours." With everything Scott has given us to cook, one of his masterpieces is the cheeseboard. To compose a proper cheese plate, Chef Scott recommends, "focusing on texture and cheese potency. Go from softer cheeses to harder, a soft creamy cheese to a harder blue. Pair each cheese with various jams and fresh fruit."

Chef Scott has included his Clockwork Orange marmalade recipe and offers these tips for fruit and garnish on your cheeseboards: "When I plate, I plate in odd numbers. Three looks better than two. Cut the fruit into different shapes, some whole fruit, some halved. Use what's in season when you can."

Our cheeseboard at 20byNine also had nuts and dried fruit. It was as gorgeous to look at as it was to eat.
I've raved about the various choices for your meals at 20byNine, but you've got to save room for dessert. The S'mores is worth every calorie. Next time I might go with the theory that sharing is overrated when it comes to dessert. ;-)

One cannot write about 20byNine without mentioning their cocktails. They stock between 130-150 American-made whiskeys, one of the largest whiskey lists in New England. You can order a classic cocktail, such as a Manhattan, or try their specialty cocktails, such as the margarita with whiskey instead of rum.

Adam has included recipes for a few of their signature whiskey drinks. I'm going back this weekend to try the Schoolie.

Wine drinkers won't go thirsty, and beer fans have their pick from sixteen beers on tap, all from small-craft breweries in the United States.

"People come here for the booze, then they realize the food is great, and then they keep coming back," said Adam.

Adam and friends, also known as The Celestial Restaurant Group, own Down Island across the street. Down Island offers 5-course tasting menu created by Chef Scott that changes weekly. Down Island opened in May.

20byNine is open everyday. Hope to see you there.

SHRIMP TOAST
What you need:
10 16x20 peeled and deveined shrimp
Olive Oil, enough cups of oil to cover the shrimp
4 cloves of garlic
3 sprigs of thyme
1 bay leaf
1 slice of sourdough bread
2 tablespoons of soft unsalted butter
5 grape tomatoes
2 scallions, sliced thin
Juice of half a lemon

For the garlic sauce:
10 cloves of garlic, peeled
2 cups of canola oil
1 teaspoon of paprika

Procedures:
1. Heat the oven to: 375° F.

For the shrimp:
1. In a saucepan, add the shrimp, olive oil, garlic, thyme and bay leaf.
2. Bring it up very slowly until shrimp turns red.
3. Remove them carefully from the oil using a slotted spoon and set them on a tray and refrigerate immediately.
4. After the shrimp are cooled, slice each shrimp into for or five pieces.

For the tomatoes:
1. Toss them in olive oil and season with salt and pepper to taste.
2. Wrap them on a piece of aluminum foil and place them in the oven.
3. Cook them for about 10 minutes.
4. Remove them from the oven and let them cool before unwrapping them.

For the garlic sauce:
1. In a saucepan, add the garlic, oil, and paprika.
2. Bring it up low and slow.
3. Cook until the garlic is tender and golden in color.
4. As with the shrimp prior, take the garlic out of the oil and set it aside. Reserve oil.
5. In a blender, add the garlic and 2 tablespoons of the oil reserve and blend it on high until very smooth.
6. Then take it out of the blender and set it aside.

Assemble the toast:
1. Set a skillet on medium heat.
2. Spread the butter on both sides of the toast and toast it in the skillet until golden brown on both sides, then set aside.
3. In a saucepan, add the shrimp, one tablespoon of the garlic puree and lemon juice.
4. Cook until warm through.
5. Season with salt and pepper to taste.
6. On the warm toast spread the shrimp and garlic mix. Add the roasted tomatoes and garnish with the sliced scallion.

Serve immediately.