ARTIST PROFILE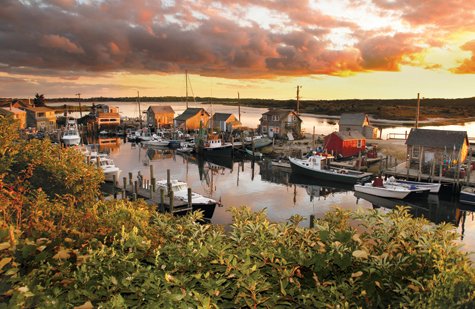 Peter Simon

A 50 Year Love Affair with the Land, Sea and Sky of Martha's Vineyard
Profile by Stephen Davis
Peter Simon has done more than anyone I can think of to document and celebrate the Island of Martha's Vineyard. For more than fifty years Peter has communicated and expressed his love for the empyrean Isle through his photographs, books, recordings, portraiture, calendars, broadcasting, journalism, galleries, and record hops. His book is one result of his achievement, the culmination of a lifetime's labor of love for his community and home.
The story begins before Peter was born, when his parents began coming to the Vineyard in the 1930s. His father, Richard Simon, had founded Simon & Schuster, and was the most important publisher in New York. His mother, Andrea Simon, was a famed social hostess and later a civil rights campaigner. They began renting an old farmhouse on Middle Road in Chilmark, in an era when most summer homes weren't yet connected to the electric wires. They used kerosene to cook and read by; every few days the iceman would come with his iron tongs to load up the icebox. The family mixed with that era's "Up-Island" summer colony: among them Roger Baldwin, who founded the American Civil Liberties Union (and who owned the spectacular Windy Gates cliffs and beach in Chilmark); the protean Missouri painter Thomas Hart Benton and his family, who would begin the folk music revival on the Island; the actress Katherine Cornell and her friend Margaret Webster, the first woman to direct on Broadway; and the legendary radical editor Max Eastman (who reportedly hosted Leon Trotsky as a houseguest on the Vineyard one Summer; Max is also said to have begun the custom of bathing nude on the spectacular beaches Up-Island).
The Simons also mingled with the old-stock fishing and farming families who comprised the true social fabric of the Vineyard, many of them from lineage dating to the seventeenth century.
Peter was born in New York in 1947 and grew up fascinated by photography. His father was a talented amateur photographer and the author of a popular manual for getting the best shots. Richard Simon had his own darkroom off the library of the house in which Peter grew up. When Peter was six, his father sat him on the counter next to his enlarger and taught him to swish a photographic print back and forth in the Dektol as images magically emerged on the treated paper. By the time he was ten, Peter was taking his own Polaroid snapshots and learning to mix the chemicals necessary for home development. When Richard Simon died of a heart attack in 1960, Peter inherited his camera (a 1937 Leica) and the darkroom.
Andrea Simon continued to bring her children to the Vineyard in August. Peter started taking pictures on the Island in 1962, around the time his sisters Lucy and Carly began singing professionally as the Simon Sisters. He was there with his camera when the girls performed at the Moon-Cusser, the legendary Oak Bluffs folk music venue, in 1964. The following year, Peter spent the Summer between high school and college roaming the Island with his camera, making pictures of beaches and towns, meadows and moors, the ever-changing sea. It was his first portfolio of Island images, beginning a 50-year run that continues through this writing.
After Boston University and years photographing the cultural and political upheavals of the American Sixties, in 1973 Peter bought an old fishing camp in Gay Head, as Aquinnah was then known. He began publishing his beautiful black-and-white pictures in the Vineyard Gazette, the Island's venerable newspaper, whose broadsheet format was a vital local showcase for his work. In fact, many of the images contained in this book originated on assignment for the Gazette, beginning in 1970. Others appeared in Peter's first two books, Holding On Moving Still (1971) and Decent Exposures (1975).
In 1974, Peter became an ardent admirer of Jamaican music, and began broadcasting reggae and his favorite music on WVOI, the Island's FM radio outlet. His eclectic program "Good Vibrations" has been credited with introducing reggae to the Cape and Islands. He and some friends began to organize reggae dance parties at the Chilmark Community Center and the Agricultural Hall in West Tisbury, which drew big crowds on Summer weekends in the Seventies. Peter's next book, Reggae Bloodlines, was a best-selling work of photojournalism documenting the artistic and political shock wave emanating from that other island, the one in the Caribbean. This led an editor at Peter's New York publisher to suggest that Peter gather all the Island's famous writers and produce a book that portrayed the contemporary Vineyard, which was then threatened by over-development. The result was On The Vineyard, published in 1980, an anthology of Island writers featuring essays by 31 authors including such literary stars as John Updike and William Styron. (The glamorous launch of the book at the Styron home in Vineyard Haven was the party of the year.)
Off-Island projects kept Peter busy through most of the Eighties. Then in 1988 Peter and his artist wife, Ronni, built a new home in Chilmark, and he founded his own imprint, The Simon Press. Peter began producing The Vineyard Calendar, an indispensable date keeper in many a household for almost three decades. Peter also compiled two more important anthologies, publishing On The Vineyard II (37 writers, 1990) and On The Vineyard III (39 writers, 2000). Island-related photographs also are featured in Peter's 2001 autobiography Eye And I: Pictures of My Generation.
Peter's most intimate interface with his Island neighbors has been through his work in portraiture and weddings. Beginning in the late Seventies, Peter began advertising family portraits in the Gazette and later in The Martha's Vineyard Times. He gathers client families in the golden light of sunset at places like Menemsha Creek in Chilmark and Cow Bay in Edgartown. He chats them up, gets them to relax, arranges and rearranges them, making sure they're rubbing shoulders – "Can you all pull in a little tighter for me please?" – and produces these great images of happy clans on vacation. Sometimes, as in some families, these people don't even like each other, but Peter patiently sorts this out and eventually gets everyone smiling. (Ronni calls this process "phototherapy.") Many families re-book portraits in five- or ten-year intervals to chronicle their histories, as children have children, and the generations expand. The portraits become family treasures.
Beginning in 1994 Peter began to document and preserve the Vineyard's musical scene. Over the next four years he recorded songs by the Island's best musicians, both amateur and professional, and released four CDs under the banner of The Vineyard Sound. In 1999 Peter began hosting a weekly freeform radio program on WMVY called "Private Collection," which featured many of Peter's vintage home recordings and (often illegal) bootleg tapes. In 2008 he produced Back To The Island, a celebratory CD of the Vineyard's love of reggae that featured inspired locals alongside Jamaican stars who arrived to play at the Hot Tin Roof nightclub every Summer. That year also saw Peter and Ronni open the Simon Gallery on Main Street in Vineyard Haven, which continues to expose their work to Islanders and visitors just off the ferry from the mainland.
It was the gallery's clientele who inspired this new book. Whether they were buying framed photographs of Carly Simon or Jerry Garcia, whether they were purchasing calendars or copies of his books, many of Peter's customers expressed the wish that they could buy and bring home a large omnibus volume that contained his Vineyard photography; a souvenir door-stopper of a coffee table book offering the beautiful color imagery that expresses Peter Simon's abiding love and appreciation for what Martha's Vineyard has given to him over the course of an energetic and often thrilling lifetime. This is the book you are now holding in your hands.
I was invited to a birthday party on the Vineyard just before I started writing this tribute, and I asked Peter to come along as my date, since Ronni was off the Island. As we drove from Chilmark to Oak Bluffs, Peter reminded me that there have been difficult parts to his life and career, and that there were some things he wished he'd done differently. He had a bout with alcoholism that had landed him in the Edgartown jail; now he's been sober for more than a decade. Currently he's being (successfully) treated for lung cancer. Were those toxic chemicals from all those years in the darkroom responsible?
The guest of honor at the birthday party was 95 years old, a Vineyard grande dame. When we arrived, the guests were sipping champagne and sampling tidbits, and the scene was pretty staid. You could even call it subdued. But everyone seemed to know Peter and was happy to see him. I'd asked him to bring along his camera, knowing what would happen next. Soon flashes were going off as Peter got the guests to pose with each other and smile, pulling them in tighter, making body contact, arms around waists and shoulders. Quickly glasses were re-filled and the sound level went up. A delicious supper was served, codfish en croute with a delicate lobster sauce. So many guests wanted their pictures taken that Peter could barely eat. When it was time to cut the majestic cake, Peter got them to pull the table away from the wall so the birthday girl would be facing the guests with cake knife in hand. There was cheering and applause when the job was done. Once again, with his characteristic charm, candor, and innate human sympathy, Peter Simon and his magic camera had turned a party into an event. I'm immensely proud to have been his friend and colleague for most of my life, and I continue to treasure him as a source of inspiration and hope. His book is a part of what Peter Simon has been all about, for all these years on Martha's Vineyard.
For more information Click:
www.petersimon.com
or call: 508-560-1358.
You can stop in at his gallery at 54 Main Street in Vineyard Haven.