GARDENER'S NOTEBOOK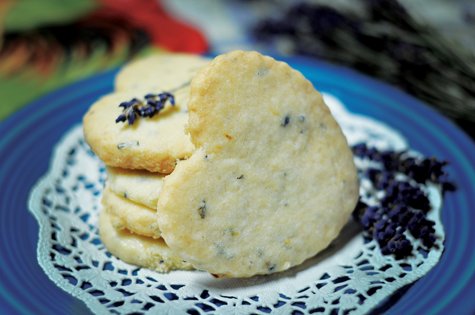 Lavendar
by Mariko Kawaguchi
This year in particular has had winter holding on tenaciously while spring seems to be coming slower and in short bursts of stops and starts. In the greenhouse at Donaroma's we have been growing plants, nurturing seedlings, taking cuttings and because of cool temperatures and grey days, like all island gardeners, we have been off to a slow start. Color is a thing of the distant future, inevitable yet elusive at the present. I recently wandered through a growing house and happened to brush a nearby lavender that was filled with eye catching silver foliage and was reminded of how important our sense of smell is. The lack of spring color made me appreciate the waft of bright, piney floral scent emanating from this little six inch pot. Lavender is always a favorite perennial herb at Donaroma's, with both professional landscapers and amateur island gardeners who appreciate its versatility.

On the rare occasions that I can have a Saturday off during the growing season, my favorite activity is going to the West Tisbury Farmer's Market. I wanted to write an article about lavender, and Andrea Rogers has been a long time anchor of the farmer's market, and a friend who creates beautiful crafts from this easy to grow perennial herb. Who better than Andrea to give us Vineyard insight into growing this purple, scented demure flower. Andrea sells copious amounts of fresh and dried lavender spikes, incorporating them into her sachets, pillows, and unique craft items.

According to the dictionary, the definition of an herb is "any plant with leaves, seed, or flowers that is used for flavoring, food, medicine or perfume. Our first thoughts about herbs are plants that are used for flavoring our foods. Lavender is the distinguishing flavor in Herbs de Provence, mixed with savory, marjoram, rosemary and thyme. In conversation about lavender, people see it as an essential oil, primarily utilized in soaps, cleaning products, and perfume. Andrea however has provided us with a short bread cookie recipe, with lavender as the essence of the dessert.

Back in the day of my time as a vendor at the farmers market, Judi Worthington and I manned our booth under the banner of Flour and Flower. Judi sold gallons of her lavender lemonade, which is an exceptional thirst quencher on a hot summer day. I confiscated the idea from Judi's beverage repertoire, and it quickly became my favorite tonic while working in the garden under the sweltering sun. Find your favorite fresh squeezed lemonade recipe, and then take fresh lavender flowers and stems, wrap them in cheese cloth, tying the ends with butchers string and infuse this into water, to the boiling point. Let the water cool add your lemons and a sweetener of your choice. The longer the lavender steeps the lavender in your lemonade will be.

Don't underestimate the versatility of lavender, from the linen closets and home decor, to aromatherapy for relaxation, to the endless possibilities in the kitchen, both savory and sweet. I would now like to share with you Andrea's reminisces on lavender, and her advice on growing her most cherished botanical ingredient.