SCENE & SEEN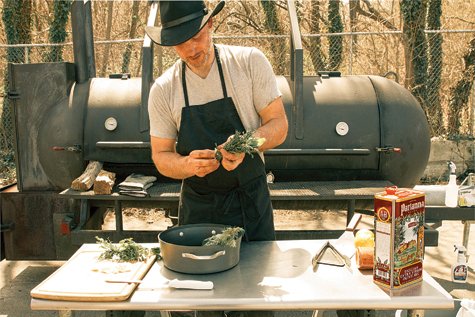 Smoakin' the Whole Hog
A whole pig, slow-cooked over the fire, is Smoak BBQ's signature offering. It all began when Tim Laursen was in high school here on the Island and his friend Everett Whiting introduced him to pig roasts at his family's farm. Later, Everett trained as a chef, and in 2010 Tim built a portable roaster so that they could cook pulled pork sandwiches and more at the Martha's Vineyard Agricultural Fair. The following summer, Tim thought that it would make sense to use the roaster for other events, and so Smoak BBQ was born. He now works with his fiancée Ann Khoan, who worked last winter as an assistant chef and baker at an open fire restaurant in Brooklyn.
Cooking outdoors, over an open fire, is a time-honored way of bringing people together. Smoak pairs that mode of celebration with locally-sourced ingredients like Farm Institute beef, produce from Morning Glory Farm, or pork from The Good Farm, depending on the season and availability.
For an event, Tim and his crew bring the roaster to the location and start cooking around midday. "At the location, we always have people come up and talk to us," Tim says. The menu varies according to the event, with fish and other meats alongside the centerpiece pig. Side dishes include local corn, in season, mac and cheese, potato salad, fire-roasted veggies, and salads. Smoak specializes in larger events but can create custom menus for parties of any size.
With three different smoaker / roasters, all made by Tim, and an Argentine-style plancha, they continue to expand their open-fire cooking repertoire. "You get so much good food from one fire," Tim says, "such a feast."
For more info, pictures, and menus, click:
www.smoakbbq.com
, or call Tim direct at 508-560-2084.