COMMUNITY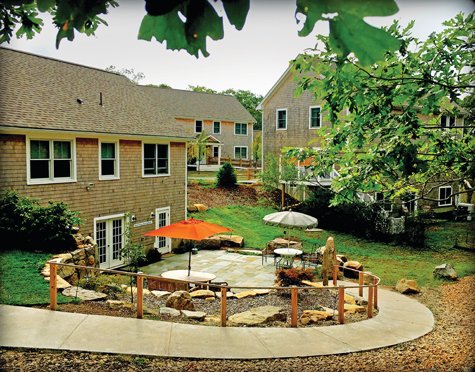 Vineyard House

The Island's Helping Hand on the Road to Recovery
By Amelia Smith
Vineyard House provides housing for Islanders in the early stages of recovery from alcohol and drug addiction. The road of recovery can be long and fraught with challenges, many of them particular to life in our small, sometimes isolated community with its seasonal economy and disparities of wealth. Before Vineyard House's founding in 1997, re-entry into the Island community left recovering addicts extremely vulnerable to relapse. "People would go into treatment and come back to the same environment they'd left," says Brian Mackey, current president of the Board of Directors. The residential program at Vineyard House's new campus, along with 12-step meetings and other community support, are designed to help addicts build habits that will help them stay sober and transition back into the Island community.
Residents are required to attend nintey 12-step meetings during their first ninety days at Vineyard House. Meetings held in the Teagan Meeting Room bring members of the Island's larger recovery community to the campus, helping residents make new connections. The meeting room is named for Hazel Teagan, a recently-retired nurse and substance abuse counselor. Hazel's words decorate the meeting room walls. "A lot of people in the community say, 'I'm only alive because of Hazel,'" says Operation Manager Kate Desrosiers.
Vineyard House requires a six-month commitment from new residents, but many remain for the maximum stay of 18 months. Residents must be gainfully employed, contribute to the residential community, attend meetings, come in before curfew, and submit to random alcohol and drug screening. Along with those sometimes-stringent requirements, there are significant benefits, including the support of fellow residents who understand each others' struggles and subsidized rent. "At the end of eighteen months they have some money in their pockets and they have some skills," Kate says.
Some residents come through the program more than once, but Sheila Shapiro, Chair of the Residential Support Committee, says that relapse isn't seen as a failure, just an unfortunate reality of this illness. "There's no stigma to relapsing and wanting to come back in," she says. That said, some who come back again and again may need something that isn't provided here, and the people at Vineyard House will help them look for other solutions.
Staying sober is a matter of life and death. Outside the Teagan Meeting Room is a stone patio built by Lou French and his son Asa, whose memorial stone sits beside it, a reminder of one life cut short. The current opioid epidemic is a matter of deep concern, but alcoholism remains by far more common than drug addiction, affecting Islanders across the generations. Alcoholism rates on the Island have historically been higher than off-Island, a problem outlined in Milton Mazer's 1976 book, People and Predicaments.
Vineyard House was founded in 1997 by a small group of Islanders, including Trip Barnes, Hazel Teagan, and Charlie Silverstein. Sandy Broyard of The Yard donated what became the first men's house. That house was followed by another house for men in recovery, and a third house for women. Those houses were scattered around Oak Bluffs, and the buildings were old, difficult to keep in good condition, and isolated from one another. The office was in a fourth location. The current campus opened in December of 2014, and it's made a huge difference. For one thing, the nicer living spaces decreased the stigma associated with living in the "halfway house." "Building the new campus delivered much more than we thought it would," Brian says. Beyond comfort and convenience, it's brought people together to form a stronger community.
"They have privacy but they're not isolated," Kate says. "The residents all have chores, so it's really clean and nice all the time. They enjoy each other's company and they help each other, too." It's not always easy. Sometimes people think that they're ready to go after only a few weeks in residence, but staying longer is key to breaking the cycle. "The more time you have in here, the more you have invested," Brian says. "You have the reassurance that yeah, it would be a bad idea to go back."
Sheila says that although it's sometimes harder for women to make the decision to stay, the program is just as effective for women as it is for men. Children aren't allowed to stay there, but they can visit their family members, and after the initial ninety days residents are allowed to spend occasional overnights away from the campus. For whatever reason, there's usually more space available in the women's house than in the men's houses, which have been full since the new campus opened.
"We're full, but we feel like we're meeting the need of people for a place like this," Brian says. "The goal is to assimilate people back into the Island community. We've had tremendous support from Island organizations and town governments, it's well appreciated." The positive side of this story is that many residents go on, break the cycle, and come back to help others along the way, including very practical help like helping new residents find work. Some of Vineyard House's board members have been residents there in the past or are veterans of their own struggles with addiction. They understand and are willing to help, often above and beyond their official roles.
You can find out more about Vineyard House at their website:
vineyardhouse.org