ARTIST PROFILE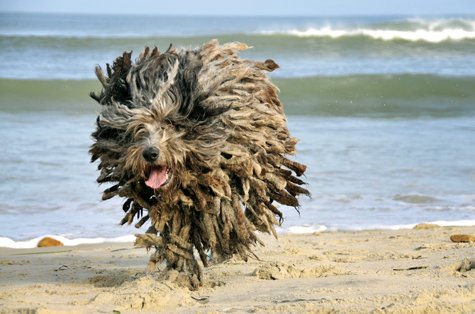 Vineyard Sea Dogs

Lisa Vanderhoop's Vineyard Seadogs Calendar
By Gwyn McAllister
It's the canine equivalent of the Sports Illustrated Swimsuit edition. A highly anticipated annual publication sure to generate speculation on which beauties will be featured this time around and guaranteed to win admiring comments on the various charms of the models.
The Vineyard Seadogs calendar features pooches of all descriptions enjoying the sand, surf and sun with typical doggy delight. And on canine-crazy MV – the combination of man's best friend, coupled with beach and seascapes has proved irresistible. The calendar has been a perpetual hit since photographer Lisa Vanderhoop introduced it ten years ago. The Seadogs calendar was even featured on the Today Show and was listed as the #1 best animal calendar by People magazine.
"It's sort of ironic. I started this as a weird niche," says Ms. Vanderhoop. "I had no idea it would become so popular."
Part of the calendar's appeal is that it features dogs in their element – doing what they do best. No couch potato posers here. Ms. Vanderhoop seeks out the rough and ready, rugged adventurers. Those with an "I'm up for anything" attitude.
OK – some of her sea dogs prefer to stay on the shore - being not too crazy about getting their feet wet. But they're all outdoorsy, nature loving beasts whose absolute joy always shines through. No pampered pets need apply. "I can tell from the beginning if I'm going to be dealing with a stage mom," says Ms. Vanderhoop. "I get people who want to get their dogs groomed or accessorize them. I nip that in the bud right away. I'll tell them, 'That's not a sea dog.' No pink bows. No rhinestone collars. They've got to be real Vineyard dogs."
Shots from recent calendars exhibit the diversity of activities the dogs of Martha's Vineyard engage in – splashing, wading, romping in the surf, chasing a ball into the water or just kicking back in the sand soaking up the sun. Some images feature the truly intrepid - a bulldog balanced on a boogie board, a dog jumping off a pier, a red lab straining over the side of a boat to check out the prize Bluefish being reeled in by its owner.
The pretty, petite Ms. Vanderhoop has all of the energy, enthusiasm and let's go for it approach as her models. She can often be seen in in her typical work gear – a baggy wetsuit and waders - crouching at doggy level, chasing after frisky pups to grab the perfect action shot and, of course, getting her feet – even her entire self – wet.
It's not surprising that the photographer seems to enjoy the shoots as much as the pooches. Ms. Vanderhoop loves swimming, boating, kayaking, fishing and basically anything to do with the water. , She's married to Captain Buddy Vanderhoop, famed local fisherman and owner of Tomahawk Charters.
Their Weimaraner Amos, who was a fixture on the boat for years, was the inspiration for the Seadogs calendar. Ms. Vanderhoop began to notice that dogs all over the Vineyard loved the water and could be seen everywhere enjoying a wide variety of ocean activities.
"They're joyous playful creatures," she says. "It's one of our greatest pleasures in life to take our dogs to the beach, commune with nature and bond with them. That's what the calender is all about."
It's also not surprising that Ms. Vanderhoop fell into animal photography. Before moving to the Island she enjoyed a rich and varied career working as a production assistant on nature/science PBS documentaries. She also was the on-set still photographer of pictures to be used as promotion and in marketing.
Ms. Vanderhoop grew up in upstate New York and, after earning a degree in Environmental Sciences from Syracuse University, she embarked on a series of career adventures. After stints working at a wilderness camp in Colorado and a marine science camp in the Florida Keys, she landed a job at the Bermuda Biological Station, the Marine Biological Lab (MBL) and then the Woods Hole Oceanographic Institute, where she participated in a couple of month-long diving cruises.
Those jobs led to a career as an associate producer of documentary, working for National Geographic, Audubon, the Nature Series, ABC, the New England Aquarium and other PBS productions. She has travelled to the the Sargasso Sea, the Galapagos, remote areas of Africa and many other isolated and exotic locales. And loved every minute of it.
Oddly enough, Ms. Vanderhoop's first assignment was somewhat prophetic. "I almost feel like I've come full circle," she says. "The first film I ever worked on was about the domestic dog, I thought I was going to be sent to the Great Barrier Reef, Africa or somewhere exotic. Instead I ended up working on a PBS film about dogs for the Nature Series."
Ms. Vanderhoop found the job both fun and educational, and quite a contrast from her next assignment–a piece on cats.
"I would ever attempt do a cat calendar or cat book," she says. "I thought the cameraman was going to have to be institutionalized after that one. We couldn't even get a cat sleeping. That's what they do all day! It's not in their DNA to be nearly as cooperative or eager to please as dogs are. They're largely solitary creatures and not really programmed to be team players. They don't work together. Dogs in the wild work together to survive."
Lessons gained from that initial shoot have served the photographer well.
"Generally what I learned from that experience was that dogs are pack animals. There's a hierarchy. That's why dogs and humans have bonded. Dogs want to please you. It's not that complicated. They're motivated by affection and food."
Of course, Ms. Vanderhoop has a few tricks up her sleeve. She sometimes lets out a loud high pitched "bark" to get a dog to look alert and stand its ears up. But, aside from some basics - coaxing with food and extra attention – the photographer has found that dogs in general are eager to please. "It's not rocket science," she says. "It's about relating to the dog. People think pet photography is hard. It's not. You get down on their level and try to remain calm. On so many of these shoots I'm in such contorted positions and making unusual noises. I know people must think I'm crazy."
And she's not the only human putting herself out on these shoots. "The funniest part of all this is what I get the owners to do," says Ms. Vanderhoop. "We get on the beach and I make them run or get in the water. I've exhausted people. It's always amazing the lengths people will go for me and their dogs on these photoshoots. Really a lot of it is having the cooperation of the owners."
However, when it comes down to it, when working with dogs, adaptability is key. "You can't be rigid," says Ms. Vanderhoop. "When something doesn't work you go on to something else. With that kind of attitude you get a much better shoot. Dogs are beings with souls and personalities. You can't mold them."
"I almost always I go in with an idea of what I want to get. 97 percent of the time I wad that up and throw it put the window. The dog tells me."
Case in point – one woman was so anxious to have her dog featured in the calendar that she was willing to go to desperate lengths. When the dog wouldn't jump off a dock, as promised, she took matters into her own hands. "The dog didn't want to jump," recalls Ms. Vanderhoop. "So she started pushing him off the dock. She did that twice. I finally said, 'OK that's enough of that.' So we instead went to Lucy Vincent Beach when the surf was up. This non dock diving dog ended up being a sensational body surfer. He really, really surfed those waves. One of my all-time Seadog stars for sure."
That particular dog owner wasn't the only one anxious for stardom for her pet. "I have people pursue me," says Ms. Vanderhoop. "They have even come up to me in Cronigs and have their dogs audition in the parking lot."
The photographer has a fondness for family dog portraits. She always includes in her calendar at least one shot of adult siblings or large groups of litter mates. Not surprisingly, she has discovered that gangs of puppies can be difficult to wrangle. During one wintertime shoot on Lucy Vincent Beach she had to jump into the freezing water to retrieve two rogue German Shepard pups who were ready to run onto some thin ice.
Ms. Vanderhoop tries to mix things up by including all shapes, sizes and breeds. She shows no favoritism, although she admits "I like big mutts and I cannot lie," referencing the popular Sir Mix-a-Lot song from the 1990s. "I like small mutts too." she adds.
As the photographer has come to realize, each breed has its own personality, although it all really depends on the individual. "You can generalize to a degree," says Ms. Vanderhoop. "But I've actually met a few Labs that didn't like water."
Big dogs, small dogs, purebred or mixed breed, Ms. Vanderhoop clearly enjoys them all. "They're all such characters," she says. "There aren't many dog shoots that I come away from without a big smile on my face."
The Vineyard Seadogs 2017 Calendar is in many of the stores on Island including Bunch of Grapes, Rainy Day, Edgartown Books, Ally's, Cronig's, Good Dog Goods, to name a few.
You can also visit Lisa's website at
www.vineyardseadogs.com
(to view the current calendar and to order) or you can directly contact Lisa at
seadogsproductions@hotmail.com
. By phone: (508)645-3201 and cell (508)560-5707.
Vineyard Seadogs Calendar and holiday cards - a truly Fetching Gift Idea!