DRAWING BOARD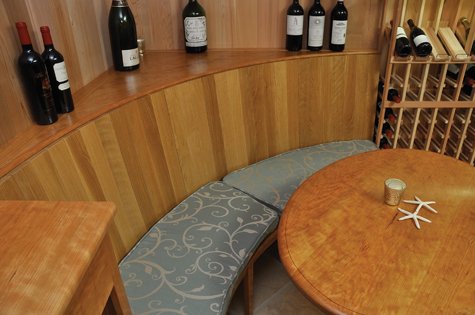 Working With Wood

Matthew Ray Was Born to Do This Job
By Westley Roberts
Ray Woodworking has not been a business for very long, but one could say that the seeds of the business were sown a long way back, in the early 1970's.
When Matthew Ray was a young boy growing up on the Vineyard, his father was a building contractor. Matthew loved spending time on job sites with his dad on Saturday mornings to feel and hear the loud machines, smell the sawdust and see the houses that appeared to literally sprout from a hole in the ground. His interest in making things out of wood continued to grow, and in 8th grade, he was awarded the coveted Golden Hammer award from shop teacher Mike Ovios, the legendary industrial arts teacher at The Tisbury School. That award hangs on the wall of his shop to this day.
Matthew's path then led him away from the shop to college, and eventually law school, all the while his summer jobs were always spent outdoors working for builders, an electrician, a landscaping company and even a mason. Following law school, Matthew spent the next ten years arguing before judges and juries all over New York and Connecticut, often with a sharpened pencil behind his ear. Matthew recalls "many Monday mornings at work hearing his coworkers discussing their weekend golf outings and I'm telling them about refinishing my dining table and chairs or repairing the stone wall in front of my house."
After the birth of their second child, Matthew and his wife Jennifer  began discussing the idea of raising their two children on Martha's Vineyard, and they both agreed it would be a great choice for their young family. Not only did they decide to relocate, but Matthew also chose a new career based solely on his love of working with his hands. Ray Woodworking is the result of that change.
Matthew spends most of his time in the shop building custom furniture and case pieces, so when he was contacted about building a wine cellar for a homeowner in Chilmark he jumped at the opportunity to expand his skillset. "When I discovered the project was based on a design sketched by my friend Architect Jamie Weisman, I was thrilled to be a part of it," he says.
While the aesthetics and functionality of the design were sound, there were two major engineering challenges created by Jamie's design; one was that the pieces needed to be tight, not just to each other, but also to five different vertical surfaces; the other was figuring out how to build and support a curved bench with a back rest that angled back for comfort.
Getting each of the pieces to fit tightly against their mating surfaces was accomplished in two ways. First, Matthew took a series of highly accurate measurements along walls and from point to point so that he could lay out a full sized drawing on the floor of his shop of the exact space he was working with. This enabled him to take measurements directly from the drawing and avoiding any inaccuracies. "I was able to take each piece as it was being built and place it on the full sized drawings and, using a laser level, ensure that the perimeter of each piece was exactly the shape it needed to be," he says.
Secondly, the tight fit was accomplished by building and assembling each piece so that it could be taken apart into as many pieces as possible and reassembled on site. "The bench section alone was delivered to the client's home in almost 50 pieces, each labeled and numbered so that the piece could be rebuilt easily and accurately," he says. The benefit of this process is that each piece could be then trimmed to fit against its mate individually rather than trying to fit multiple sides of a large and cumbersome piece simultaneously.
The second engineering challenge was to design and manufacture all of the curved pieces needed to make the bench function comfortably. The back of the curved bench is made of vertical staves of white oak to mimic the look of a wine barrel. From the bottom to the top the back is angled out 4" for a more comfortable seating position. Because of this, each stave is tapered by 3/32" from top to bottom so that the gap between them remains uniform along the length.
The front of the bench is supported by an apron and tapered legs. The back of the bench has a series of two inch thick structural members that support the seat, the curved frame on which the staves are mounted and the platform counter behind the bench.
In all, the bench required the gluing of bent laminated members of six different radii, using three different clamping methods. The edging for the front of the bench seat and the front of the platform are thin strips of cherry glued to curved pieces of wood using clamps and a curved clamping caul. "The three structural members to which the oak staves are mounted are laminated strips of poplar shaped on bending forms utilizing every clamp in my shop," he explains. The apron sections are thin, but much wider strips of poplar, with a shop-sawn cherry veneer that are held in a bending form using a vacuum press, which uses atmospheric pressure to hold the wood to the form while the glue dries.
With the measurements taken, the curves laid out and the engineering determined, Matthew needed only to follow the plan and build each piece as it was drawn and visualized. To finish all of the cherry used for the project Matthew used shellac for color and depth, followed by several coats of varnish "which were hand rubbed and waxed which creates a silky smoothness that invites the hand to linger," he says.
While talking to Matthew about this project he showed a clear passion not only for building things out of wood, but also for honoring a precious natural resource by using it to build things of lasting beauty and value. Matthew lamented what he called "our increasingly disposable society" and seemed to take special pride in the idea that the space he helped to define would be a place where Matthew's client and his family would gather, drink wine and discuss both the most serious and the most ridiculous ideas of the day for perhaps decades to come.
Matthew can be found in his shop in Vineyard Haven most days building and refinishing furniture, often with a sharpened pencil behind his ear.
To contact Matthew, call or click:
matt@raywoodworking.com
or at 508-560-2952. More of Matthew's work can be seen at:
www.raywoodworking.com
.