CUISINE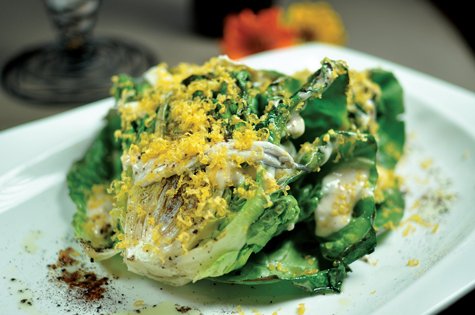 A Trip to Italy Without Leaving the Island

Travel Year'round to the Family Owned Isola in Edgartown
By Lisa Belcastro Photography by Charlie Utz
Do you love Italian food? Me too! If I could hop on a plane to Italy once or twice a week, I would. Unfortunately, neither my life nor my budget would allow such a gourmet luxury. Fortunately, I don't have to travel more than ten miles to eat great Italian food at the up and coming Isola.

Opened in late 2014, Isola is located at 19 Church Street in Edgartown and most easily accessed from the parking lot behind the Dukes County Courthouse. Peter Sullo, who owned and operated Rocco's Pizzeria for six years before selling the business to his cousin, is crafting Isola into a family-run rustic Italian restaurant for Island families and tourists to enjoy year round.

The enticing aromas as you enter the dining room will be tempting your palate before your eyes have seen the menu. Fragrant red sauce, succulent braised short ribs, comforting pastas, and decadent Italian chocolate love cake will be the beginning of the culinary temptations.

"I'm constantly changing the menu, keeping it local and seasonal is one of the things I like to do," said chef Jimmy Alvarado. "I'll be adding squash and pumpkin items for the fall as well as a gnocchi with black pepper and ricotta cheese, lamb shanks, a carbonara, braised items, and stews."

Chef Jimmy was born in Peru, raised in New Jersey, studied at the Culinary Institue, and came to the Island four years ago. He's worked at the Harborview, Beach Plum Inn, and as a private chef. He cooked at Isola throughout the 2016 summer season and then became head chef in late August.

"Jimmy's got real positive energy. I wish we'd found him three years ago. He's really creative and excited about cooking," said Isola owner Peter Sullo. "Jimmy loves food. He does an unbelievable pork shank."

Jimmy's culinary talents go beyond a pork shank, and Vineyard Style readers will get a few of his special recipes, including some current menu items such as the Iron Cast Lamb with Potatoes and the Baby Gem Caesar Salad, and his all-time favorite.

In addition to delicious food, there is a special touch to Isola that every customer is sure to notice: it's family owned and operated and customers are made to feel like family. Peter and daughter Gabrielle Chronister work the front of the house and chat with customers as they come in and during their meals. Peter's sons, Nicholi and Anthony, both help manage the back of the house and staff as well as working in the kitchen and the pizzeria. "It's my dad, me, and my brothers. We're a little family opening a new business," said Gabrielle.

"I want a place where people can come and relax, talk and eat," said Peter. "We're a family, my children, Jimmy, the servers and staff. We welcome people and make them feel a part of the family."

"We're still growing, expanding and improving," said Peter, who plans to begin additional renovations this fall. "There's a fireplace in the back room. We'll make that area into a lounge, have music, maybe piano player one night during dinner."

"We're trying to do more things for the locals," said Gabrielle. "We'll be doing a few pop ups too, like the pig roast we did in October."

"I like that we're putting out new dishes, getting customers to try new things," said Gabrielle, who also heads marketing and social media for Isola. "We'll be adding a kid's menu with options beyond pizza and chicken fingers."

Peter can thank daughter Gabrielle in part for the new developments at Isola. Gabrielle spent some time in Italy and is bringing interior changes and menu additions from her travels. "Next year the rooms will have a more rustic feel, more romance in some areas, and outdoor seating, much like the trattorias I visited in Italy."

"We're serving modern Italian cuisine with an Island twist," said Gabrielle. "And we'll be adding a personal pizza pie like the ones I loved in Italy."

As the restaurant continues to transform, pizza will always be on the dining room menu, as well as for take-out. "You've got to have pizza," said Peter. "People love pizza."

Peter grew up in a large Italian family where everyone cooked and everyone ate well. He raised his family in the same fashion. Food and family go hand in hand, which is what makes Isola a warm and inviting place to have dinner.

Some of the most cherished items on the menu are family recipes. "Our meatballs are my nana's recipe and our red sauce is her recipe, too," said Gabrielle.

My nana inspires me," said Gabrielle, who is expecting her first son, and Peter's first grandson, in November. "Nana is 90-years-old and she loves to drink wine and dance."

The friendliness of Sullo family enhances every delicious bite of Jimmy's food. It's the perfect combination for dinner, and a lot closer than Italy. Jimmy has shared six recipes with us, including a chocolate terrine for dessert and octopus carpaccio for starters.

Jimmy's all-time favorite dish is ceviche, and he has graciously shared his flounder ceviche with Vineyard Style readers. "It's my grandfather's recipe and the one I love the most," said Chef Jimmy Alvarado.

Peter's favorite food is pasta, and Jimmy has created a fall linguini dish that I'll be making next week with the butternut squash from my garden. – "I can eat pasta every day," he said with a big smile.

Whether you want pasta, chicken cacciatore, scallops, or short ribs, Isola is open year round, Thursday through Monday nights for dinner. They have gluten-free dishes and pastas as well as vegetarian options. Buon appetito!

Baby Gem Caesar Salad

Ingredients:
1 can white anchovy fillets, drained
2 to 2 1/2 tbsp. extra-virgin olive oil
1 tablespoon lemon juice
Salt and pepper
2 whole small Little Gem lettuce heads or 4 hearts of romaine
2 ounces manchego cheese, shaved with micro-plain grater
1 lemon, cut into wedge

Method:
1. Heat a grill to high heat (450°). With the flat side of a knife, mash the anchovies to a paste. In a small bowl, whisk together oil, lemon juice, anchovy paste, and salt and pepper to taste.
2. Keeping leaves attached to cores, cut lettuce heads in half lengthwise. Brush all over with 1 1/2 to 2 tbsp. anchovy dressing.
3. Grill lettuces, covered, turning once, until they are softened and streaked brown, about 30 seconds.
4. Place lettuces cut side up on a platter. Drizzle remaining dressing over lettuces and top with manchego and 4 to 5 white anchovies to top it off.