TRENDS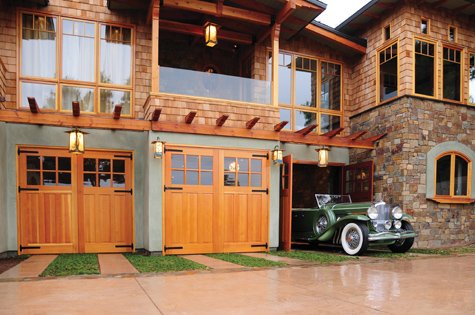 Real Carriage Doors

Ordinary Doors Become Extraordinary Works of Art
By John Budris
A door is not a barrier, but rather a passageway. A door needs to be functional, but needn't be pedestrian. A door should be a work of art and a reliable tool all at the same time. That's where Real Carriage Doors comes in. Since 2004, the Gig Harbor, Washington-based company has fabricated custom doors and hardware for the needs of a special breed of customer, one at a time.
"When you go out and really make something, if it's worth making, you want to make it right, and you want to make it beautiful," says company founder Don Rees. "You want it to be an art piece, you want the shape, the proportions, and the quality to come together because sym-bolically doors say some-thing about your soul."
Drawing from his long experience building timber frame homes, Rees put those same principles into his doors. A team of craftsmen builds each door using mortise and tenon joinery with intention, design and forethought. Real Carriage Door Company primarily uses clear, vertical grain Douglas fir. The high strength-to-weight ratio makes for strong, long-lasting and solid wood doors. The company also offers rustic alder, German beech and hardwoods such as Spanish cedar, Sapele mahogany and white oak. Re-purposed boards from vintage barns are also used in custom designs. All of the timber used by Real Carriage Doors comes from sustainable harvesting.
Real Carriage Door Company offers a broad range of standard door design options, construction upgrades, door accessories, and door hardware and will design one-of-a-kind pieces for any application. Carriage doors, sliding doors, or folding doors are all part of the company's repertoire - both interior and exterior. Most of the door styles also work wonderfully as Dutch doors to enjoy a breeze in the summer months. Pre-hung doors in two jamb styles are also available, and no installation is beyond basic carpentry skills. Shipping depends on weight, but generally a set of carriage doors can be delivered to the east coast in the $500 range.
As a complement to its doors, the company also fabricates hand-forged hardware and hinges in many styles and finishes to match every individual need. The hardware can easily be retrofitted on existing doors as well. One of the most popular systems - the sliding barn door on a rail motif - has proven to be a boon for those renovating antique homes. In most of these century or older homes, in-swing, interior doors consume a significant swath in already small rooms. By retrofitting the existing door to slide on a rail in a hallway, for example, space is now available inside the room for a chair, night table or desk.
If one principle guides the hands of the Real Carriage Door team, it might be that doors are heirlooms."People often say that they don't make things like they used to," says Rees. "But we make doors that will last generations." Just like they used to.
For more info contact: Real Carriage Door Company
realcarriagedoors.com
.