MADE ON ISLAND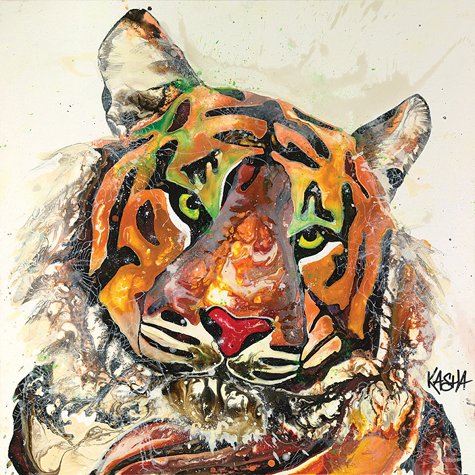 Splashed, Poured, Dripped and Diluted

The Individual Images of Kasha Ritter
By Gwyn McAllister
The work of Artist Kasha Ritter is truly unique. Not only does she have her own individual style, she also creates her striking images using a technique that she discovered on her own and has honed through the production of 100s of works.

Using acrylic ink splashed, poured, dripped, diluted and then manipulated, Ms. Ritter creates lively colorful images that are almost a cross between abstract and realist art.

"I tend to gravitate towards organized messes," says Ms. Ritter. "I love to make a mess, tear things apart and then put them back together. That's part of the fun."

After years of working in technical illustration and graphic art, Ms. Ritter started off attempting to recreate life in as realistic a way as possible. A happy accident led her in a completely different direction.

"One night I took a brand new canvas and some acrylic ink," she says. "I liked that the ink was fluid. I had never used it before. I was trying to figure out what I was going to do with this super watery media."

That proved to be a moment of inspiration. "As I'm pulling the ink off the canvas with a dropper it made a shape that looked like a flower," says Ms. Ritter. True to character, she opted to just go with the flow, in more ways than one.

It's taken almost a decade of experimentation – lots of trial and error - to get to the point where she is now. The process that she has developed is quite involved.

"I take a glass dropper and squeeze out a line of color with the ink," Says Ms. Ritter. "Add water or a gel medium and the color of the ink will follow the water, or the water will follow the color."

Although the process is largely organic, Ms. Ritter's talent as a draftsman is apparent in her work. Skillfully executed images of animals, flowers and objects emerge from the swirls, splashes and "blooms" of color.

Her subjects range from abstracts to flowers to an odd assortment of objects – a boot, a windmill, a whiskey bottle. But what Ms. Ritter really loves to capture is animals. She's created hundreds of images of cats, dogs, horses, birds and other pets. There's an entire series of horse races, not surprising since Ms. Ritter moved to the Vineyard just last year from Louisville, Kentucky.

The artist gets a lot of commissions for animal portraits and other custom pieces. She also sells her original work and prints on a site called pixels.com. You can order dozens of Ms. Ritter's images in a variety of sizes and surfaces with prices starting at $15.