SCENE & SEEN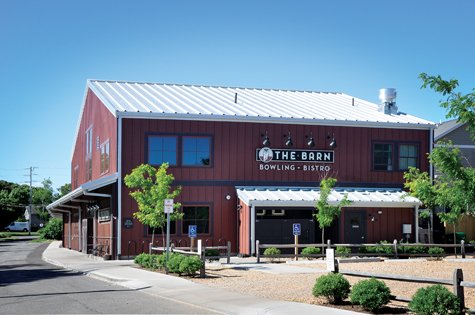 The Barn, Bowl & Bistro

The Vineyard's Answer to Cabin Fever
By Amelia Smith
The Barn Bowl & Bistro opened in May 2015, the brainchild of Robert Sawyer, Barry Reeves, and architect Sam Dunn. The Barn is the Island's first bowling alley since Spinnaker Lanes in Vineyard Haven closed in the 1990s, but it's also a bar and restaurant, serving food that goes beyond the usual bowling alley fare, and a popular spot for birthdays, staff parties, and other private functions.

The bowling alley's ten lanes feature state-of-the-art multi-media and interactive capabilities. When children have their turn to bowl, bumper guards automatically come up so that their balls don't land in the gutter. On Friday nights, there's gold pin bowling for everyone. If a gold pin lands in front and the bowler hits a strike, they win a free game. Other pin combinations can be played to add prizes to the mix for fundraisers, like the one the Oak Bluffs Fire Department held earlier this year. Over the lanes, panels display murals by Island artist Dana Gaines, but for special events screens can roll down to show any image or video.

The bowling alley is at its busiest on league bowling nights and on rainy days, but The Barn's restaurant and bar are worth visiting any day. The restaurant's newest offering is fried chicken buckets, which are perfect for take-out for families or private parties. Chefs cook up everything from burgers, the Island's best chicken wings, Asian-style dumplings and Italian dishes. The bar serves a variety of signature drinks including a raspberry Caipirinha, and has eight beers on tap including at least two local or regional microbrews, plus vodka from Martha's Vineyard Distilling Company and Martha's Vineyard Cider's Hard A Lee brew. With trivia nights on Thursdays and paint parties in the upstairs function room, The Barn is much more than just an Island bowling alley.