SCENE & SEEN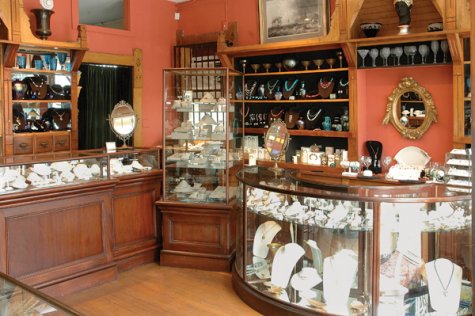 Claudia Jewelry has it all - from Pandora to Wampum
Whether you're seeking an $8 pair of tiny stud earrings or a custom-made or designer memento made of precious jewels and 18-karat gold, Claudia Canerdy of Claudia Jewelry is the only name you need to know. Claudia's shop, Claudia Jewelry in Edgartown, houses what is arguably the most diverse offering of jewelry available on the Vineyard.
Her pride and joy include her own designs. "I only do bead work – mostly earrings and bracelets," she said. "Right now I'm working with a series of diamond and sapphire beads that I combine with other beads. The surface of the beads is covered with pave set diamonds and gold filigree."
Claudia is also proud to carry the work of ten local designers. They include Samantha Church, Laura Artru, Paulette Potter and Brenda Benware. At the opposite end of the spectrum, Claudia Jewelry carries such world-renown lines as David Yurman, Hidalgo, Alexis Bittar, John Apel, Trianon/Seaman Schepps, Jamie Josephs, Talisman, and the trendy and popular line, Pandora.
"Our Island-made jewelry ranges from wampum designs to gold jewelry by Richard Hamilton," Claudia said. "Designer pieces can be more costly; our most expensive piece costs $15,000. We're proud to offer a wide range of one-of-a-kind items. Our unique hair clips are among our top sellers."
"We're just starting to put photos of our work on our website," Claudia added. The enhanced site should add web surfers to the window shoppers and regular customers who visit Claudia Jewelry.
While the Edgartown shop at 51 Main Street is Claudia's largest, she maintains a presence in Vineyard Haven, at 34 Main Street. Claudia Main Street specializes in French perfume and glassware as well as jewelry.
Main-taining her shop in Vineyard Haven is important to Claudia because it was there that she got her start. In 1971, she started out there with a leather and silver business with the clearly descriptive name Leather Silver. Like many wash-ashores, she never looked back.
Now in business for 39 years, Claudia has experienced the good and bad effects of the economy on the sales in her shops. Not one to worry about things she can't control, she told Vineyard Style, "Business was down a bit last year, but you can't predict. I never
pre-calculate."
But when it comes to things within her control, Claudia pre-calculates with perfect precision. Stop by and see the results of her extraordinary talent or take a look at at
www.claudiamv.com
.